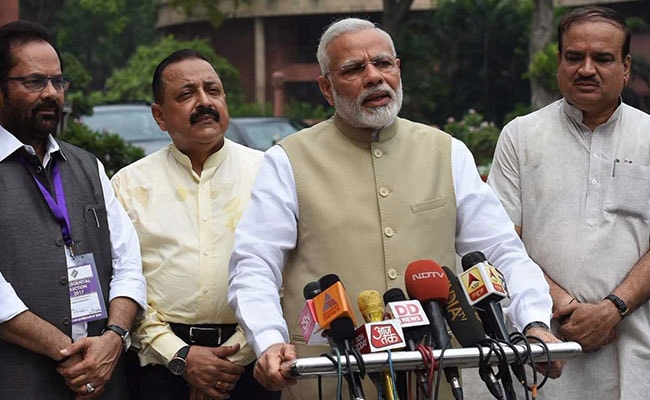 Highlights
4 retired bureaucrats inducted into PM Modi's team
Former Home Secretary RK Singh, ex-IAS officer KJ Alphons among new faces
New ministers to focus on last mile delivery of schemes: sources
NEW DELHI:
In what is seen as a
strong message of perform or perish to politicians on his team,
Prime Minister Narendra Modi is inducting four former administrators with solid reputations and little political experience in his government today. Two of them, former diplomat Hardeep Singh Puri and ex-IAS officer KJ Alphons aren't even members of parliament. The other two, Satya Pal Singh and RK Singh are first-time MPs.
The other new ministers
are Ashwini Kumar Choubey from Bihar, Virendra Kumar from Madhya Pradesh, Shiv Pratap Shukla from Uttar Pradesh, AnanthKumar Hegde from Karnataka and Gajendra Singh Shekhawat from Rajasthan. Three are from states where elections will be held next year.
In a meeting at his residence this morning, the Prime Minister reportedly told the ministers to perform and "do a good job".
Government sources said PM Modi was guided by what is being described as the 4Ps - progress; passion, proficiency and professional and political acumen. The new ministers, "picked on the basis of their past performance and future potential," would be strategically deployed in key ministries, and would focus on last mile delivery directly to the people, the sources said.
Lok Sabha member from Arrah in Bihar, RK Singh
was the Union Home Secretary before he joined the BJP and contested the 2014 election.
Retired police officer Satya Pal Singh
, the lawmaker from Baghpat in western Uttar Pradesh, has been the police chief of Mumbai, Pune and Nagpur. Back in the 1990s, he played a key role in crushing organised crime syndicates in Mumbai.
KJ Alphons too was a bureaucrat who was popularly called the "demolition man" because of the way he went on an overdrive to demolish illegal structures and reclaim encroached land during his stint as the Delhi Development Authority land commissioner. for the to reclaim encroached land. He quit the Indian Administrative Service in 2006 and won his first election with support of the Left Democratic Front in Kerala He joined the BJP in 2011. Last year, PM Modi appointed him as
administrator of Chandigarh but had to withdraw
the order
after protests by the Punjab government.
Hardeep Singh Puri, on the other hand, ended his a four-decade long career in diplomacy as Ambassador and Permanent Representative of India to the United Nations in New York . He had joined the BJP in early 2014 and was widely expected to be inducted in PM Modi's team much earlier. This year, he was appointed as chairman of the Delhi-headquartered think-tank Research and Information System for Developing Countries.
Six ministers resigned in the last two days to make way for new ones. Evictions were based only on merit after a review, sources have said, as PM Modi looks to streamline his team and strengthen his government on administration and efficiency ahead of the 2019 national election, when he will seek a second term.