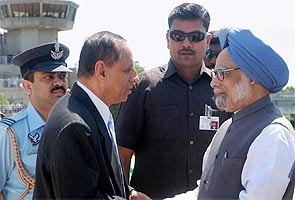 Tirupati:
Prime Minister Manmohan Singh laid the foundation of the new Tirupati International Airport at Renigunta near Tirupati on Wednesday evening.
The Airports Authority of India is spending Rs 300 crore on the project wherein the existing domestic airport is being upgraded into an international one.
However, the expansion work is said to be marred by problems over acquisition of over 400 acres for the airport expansion.
The state government has already handed over about 290 acres to the AAI.
The problem in acquisition of land has led to delay in taking up the airport expansion in the last two years, official sources said.
The state government has allotted Rs 133 crore for land acquisition.
However, Chief Minister K Rosaiah - whose speech was read out at the function as he could not attend because of ill health - appealed to the Prime Minister to direct the AAI to bear the cost of land acquisition for expansion of airports at Vijayawada, Rajahmundry and other places in the state.
"The AAI has been insisting that the state government bear the entire cost of land acquisition and other infrastructure.
This would be a huge burden on the state government's meagre resources," he said. Civil Aviation Minister Praful Patel and others were present on the occasion.