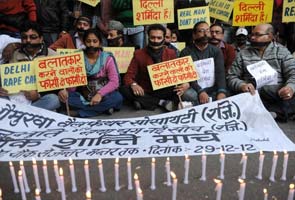 New Delhi:
The 23-year-old medical student, whose savage gang-rape on a moving bus provoked outrage and protests through India, died early this morning in a hospital in Singapore after severe organ failure. Her parents were by her side.
An Air India chartered plane carrying the body of 'Amanat' (NOT her real name) as well as her family members left for India at 10 pm IST, said Indian High Commissioner to Singapore TCA Raghavan. The plane is expected to land in New Delhi around 3 am on Sunday.
Just three nights ago, the parents had flown with the student and her doctors on an air ambulance to Singapore.
"She was courageous in fighting for her life for so long against the odds but the trauma to her body was too severe for her to overcome," a statement by the Mount Elizabeth Hospital said.
(Didn't expect her to go so soon: doctor)
The Prime Minister appealed for calm and vowed that those guilty of the murderous assault will be severely punished.
"While she may have lost her battle for life, it is up to us all to ensure that her death will not have been in vain," Dr Manmohan Singh said. The president of his party, Sonia Gandhi, said, "It strengthens our resolve to fight with all our might and with all the powers of our laws and our administration for the safety and protection of all women of our country."
(Read: the reactions)
The Delhi Police sealed all routes to India Gate in the heart of the capital, where protests last weekend had been spattered with violence. 5,000 policemen and security officers, some of them in riot gear, were posted to ward off demonstrators who strayed. Nobody did.
In Delhi, close to 500 protesters gathered at Jantar Mantar, the designated spot for demonstrations; some of them lay down with black ribbons across their mouths.
Chief Minister Sheila Dikshit tried to join them, but was heckled after she lit a candle and was then taken away by her security. Protesters said they objected to her presence because they do not want a political tint to today's sombre mood.
(Read: Delhi Chief Minister forced to return)
For 13 days, the student, who used to take tuition classes to pay for her own education according to some reports, fought for her life. She endured three major surgeries, brain injury and a cardiac arrest in a hospital in Delhi. But this was not a woman who was ready to give up. In scribbled messages while on life support systems, she reportedly asked her family if the six men who had damaged her so badly that her intestines had to be removed had been caught and punished.
(Read: She said she wanted to live)
They have been charged today with her murder; their trial is likely to begin on January 3; the government has promised daily hearings to ensure a verdict is delivered quickly.
('Amanat' lost: can India change? Comment here)

Before she was flown to Singapore, the woman shared the details of her attack with two different judges. Her testimony was not video-taped but will be used in the trial.
On December 16, the student and a male friend boarded a bus after watching a film when they were attacked by six men who took turns to rape her. They also beat the couple with an iron rod. The bus kept circling a 31-kilometre stretch in South Delhi, its tinted windows concealing the savagery within as it rolled unstopped through a series of police checkpoints. Almost an hour later, the couple was thrown from the bus onto the road.
(With inputs from agencies)