Highlights
Petrol, diesel prices to be aligned with international rates daily
Consumers can check daily prices on Indian Oil website
Prices can also be accessed through SMS or mobile app
Petrol and diesel rates are set for daily revisions from June 16. The government reached an agreement on the new 6 am timing for daily price revision with petroleum dealers, who had planned a 'No Sale No Purchase' agitation, protesting against the shift to daily revisions at midnight. Petroleum Minister Dharmendra Pradhan said a daily price revision of petrol and diesel at 6 am was agreed from June 16. At present, state-run oil retailers make daily changes in five cities as part of a pilot programme, the success of which has led to the decision to extend it to the rest of the country. Also, petrol and diesel retail prices are revised every fortnight currently.
With all the hurdles cleared for the switchover, the amount of money consumers have to shell out at refueling stations will be aligned with international crude oil rates on a daily basis.
While the prices will be displayed at refuelling stations, consumers will also be able to check the latest petrol and diesel prices online and by means of SMS and mobile app, according to the Indian Oil website. "In fact, except for the reduction of the periodicity of price revision from once in 15 days to every day, the system of price revision remains the same," Indian Oil, the country's largest fuel retailer, said in a press release dated June 12.
How to check prices online:
Consumers can visit the Indian Oil website.
Get the latest fuel price revision by visiting our website. Click here h ttps://t.co/nZZgb5RDJjp ic.twitter.com/8Rv1DH0uwU

— Indian Oil Corp Ltd (@IndianOilcl) June 15, 2017
Once on the website, they can use the '
RO Locator
' tool to locate the Indian Oil retail outlet nearest to them based on their location.
The website displays prices of various products sold.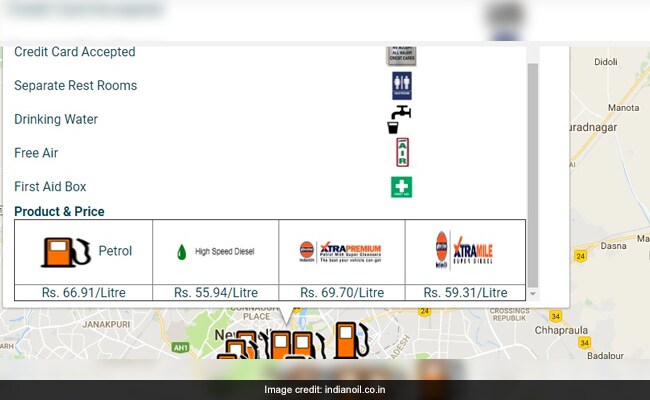 How to check rates through SMS:
Consumers need to send an SMS to fetch the current rates applicable at a dealer.
Indian Oil has prescribed a format for sending such SMSes: SMS RSP< SPACE >DEALER CODE to 92249-92249
"The Dealer Code of each petrol pump would be prominently displayed in the petrol pump premises," IOC has said.
How to check petrol, diesel prices through app:
Indian Oil's mobile app, called "Fuel@IOC - IndianOil", also enables customers to check current prices.
Petrol & Diesel prices to change on a daily basis from tomorrow. Stay updated by downloading Fuel@IOC app h ttps://t.co/smbT9QIzSQp ic.twitter.com/DIuQG48smO

— Indian Oil Corp Ltd (@IndianOilcl) June 15, 2017
This mobile application by Indian Oil is available on both Google Play and Apple Store, for Android and iPhone smartphone users respectively.
Get Breaking news, live coverage, and Latest News from India and around the world on NDTV.com. Catch all the Live TV action on NDTV 24x7 and NDTV India. Like us on Facebook or follow us on Twitter and Instagram for latest news and live news updates.