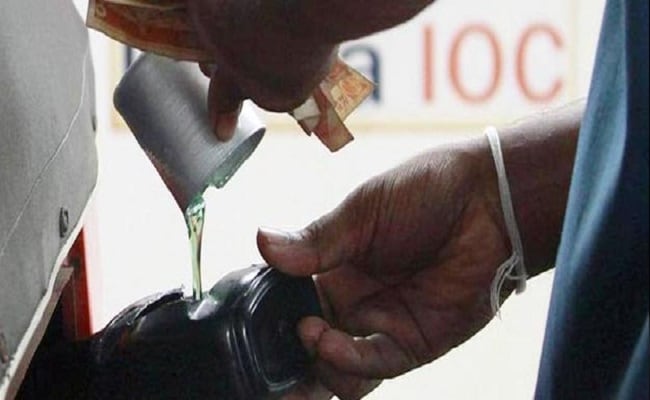 Highlights
Hike in petrol, diesel prices effective 6 am Thursday
Petrol prices in four major cities rose up to 12 paise per litre
Diesel rate went up by 16-18 paise in Delhi, Mumbai, Kolkata and Chennai
Petrol and diesel prices were hiked on Thursday. The upward revision came a day after the rates in the four major cities were kept unchanged. Effective 6 am Thursday, customers had to shell out Rs 63.19 for a litre of petrol in Delhi, Rs 66.23 in Kolkata, Rs 74.41 in Mumbai and Rs 65.58 in Chennai, according to Indian Oil Corp's website. Also, diesel was retailing at Rs 53.61, Rs 55.90, Rs 58.93 and Rs 56.43 respectively. Petrol prices in the four cities rose up to 12 paise per litre, while diesel prices went up by 16-18 paise. Domestic petrol, diesel prices are dependent on global crude oil price and rupee-dollar exchange rate. Yesterday, crude oil price fell marginally but it was offset by a fall in rupee against the dollar, leading to marginal increase in petrol, diesel prices.
On June 16, three state-run oil retailers - Indian Oil Corporation, Bharat Petroleum Corporation and Hindustan Petroleum - switched to a new system of price revisions. Giving up the earlier practice of reviewing petrol and diesel rates on the 1st and 16th of every month, based on international crude oil and forex prices, the oil marketing companies started daily price revisions. The move was aimed at better alignment of domestic rates of the fuels with global oil rates. Indian Oil has said: "The daily price revision is an initiative for ensuring the best possible prices to the customers as well as improved transparency in the pricing mechanism."
Petrol and diesel are deregulated in India, which means they are linked to market rates.
Prior to implementation of pan-India daily price revision, which was extension of a pilot project run in five cities first, India's largest fuel retailer IOC had "successfully tested all the protocol systems related to dealers and customers to ensure successful roll out of dynamic pricing structure". From mobile apps, SMS service and website updates for consumers to control rooms, portals and separate email/SMS services to dealers, a plethora of preparations were adopted by the fuel retailers. The efforts were aimed at bridging the gap between fortnightly and daily price revisions.
Today, consumers and petrol/diesel dealers can pick from a variety of digital options to get assistance on price revisions.
Some of these services for consumers are listed below.
| | | | |
| --- | --- | --- | --- |
| | SMS service | Online | Mobile app |
| Indian Oil | Send an SMS to 9224992249 in format: RSP DEALER CODE to 9224992249 | Access 'Pump Locator' tool on IOC website - iocl.com | Fuel@IOC |
| Bharat Petroleum | Send an SMS to 9223112222 in format: RSP Dealer Code | Pump Locator' on bharatpetroleum.in | SmartDrive |
| Hindustan Petroleum | Send an SMS to 9222201122 in format: HPPRICE DEALER CODE | Pump Locator' on hindustanpetroleum.com | My HPCL |
The dealer code of each petrol pump would be prominently displayed in the petrol pump premises, Indian Oil has said. Customers can also check the dealer code from the Indian Oil website.