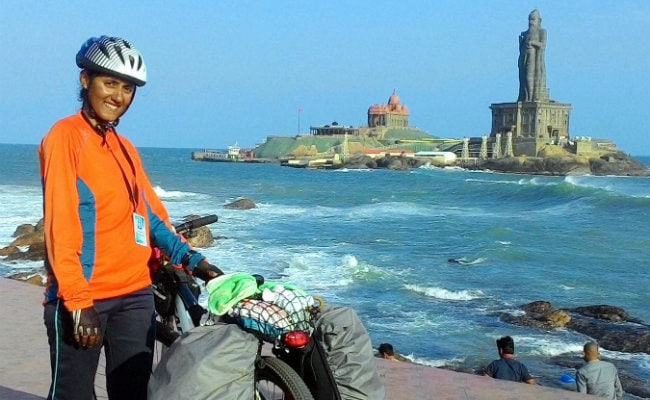 Mumbai:
When the 22-year-old Prisiliya Madan set out on her bicycle from Panvel, 50 km from Mumbai, last month, she was confident that the months of training will help her make it to her destination Kanyakumari all by herself.
However, exact itinerary and a plan of where to stay at the end of every day's journey were missing. All that Prisiliya, a student of Masters in Computer Sciences at a city college, had was distances and the gradients of roads etched in her mind, and a list of people on the way who could help.
After spending 18 nights during her 1,800 km pedalling journey at people's homes, not at hotels (she was meeting most of these people for the first time), Prisiliya reached the southern tip of the country on Monday evening.
"I never felt alone or unsafe on the road. People used to come up to me and were eager to know about my journey, and many a time they persuaded me to visit their homes and motivate their women," she told news agency PTI from Kanyakumari.
During these 19 days, which took her through some lonely stretches of the Western Ghats, she never faced any kind of threat though she was riding alone.
She had organised the ride herself, with a little help from her father Dhananjay Madan, an accomplished adventurist, and a few close friends.
It was going to be "a journey in self-discovery for pride", and she wanted to illustrate the need for young girls like her and women to get out of the confines of homes, she says.
Pedalling helped increase her "patience" and also the public speaking skills, she feels at the end of the ride. Prisiliya spoke to the girls of at least three colleges in Kerala, impressing on them the need to look beyond academic excellence and indulge in journeys of their own.
A Facebook page -- titled 'I' 'P'ride' -- helped her friends and family stay updated on the progress of her solitary pilgrimage. She had found many of the people at whose homes she stayed overnight through the social media.
Before the ride, she had to teach herself the art of bicycle maintenance. It came in handy when the brakes of bicycle gave trouble towards the end of the journey. She had earlier ridden bicycle from Kullu to Khardung La (600 km, which made it to the Limca Book of Records for the highest number of women riding along that route) and from Panvel to Puri (2,200 km) with groups of bicycle enthusiasts.
While riding uphill on the high-gradient slopes of the Western Ghats, her mountaineering training also helped her, she says.