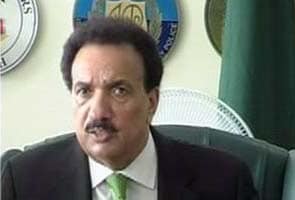 New Delhi:
The visit of Pakistan's Interior Minister Rehman Malik to India, for operationalisation of liberalised visa agreement between the two countries, has been deferred and he is likely to arrive in New Delhi on December 14.
Home Minister Sushil Kumar Shinde on Tuesday had invited Malik to visit India from December 11 to 13 during which he was scheduled to travel to Agra to spend a day at the Taj Mahal on December 12, which is his birthday.
"Grateful to Mr Shinde for his kind gesture to invite me to celebrate my birthday in Agra. Having (sic) unable to go on 12th, now I will go on 14th," Mr Malik wrote in micro-blogging website Twitter.
The Pakistani leader said he would not be able to visit India between December 11 and 13 as he would be away in Turkey on an official tour. The new proposed dates for his visit to India are December 14 to 16.
Sources said as December 13 is the 11th anniversary of Parliament attack, carried out by Pakistani terrorists, Mr Malik might have chosen to avoid being in India on that day.
Home Ministry sources said details of Mr Malik's visit are being worked out in consultation with the Ministry of External Affairs and Pakistan High Commission in New Delhi.
Mr Shinde had said Mr Malik's birthday falls on December 12 and he had expressed his desire to spend the day at the Taj Mahal and the government would facilitate his visit to the historic city.
The new liberalised Indo-Pak visa pact replaces a 38-year-old restrictive visa agreement and paves the way for time-bound visa approval and greater people-to-people contact and trade.
The visa agreement, signed by then External Affairs Minister S M Krishna and Mr Malik in Islamabad on September 8, eases curbs on issuing visas to traders, elderly people, tourists, pilgrims, members of civil society and children.
Under the new regime, one can visit five places, instead of the three at present, and those above 65 years of age and children below 12 years of age and eminent businessmen are exempted from reporting to the police.
Mr Malik had indicated to Mr Shinde, when they met in Rome on the sidelines of the Interpol General Assembly last month that he wished to travel to New Delhi to formally launch the new visa regime.
However, due to the winter session of Parliament, the visit did not materialise. Later, official sources said that as the government was planning to hang 26/11 terrorist Ajmal Kasab on November 21, the visit was put on hold.