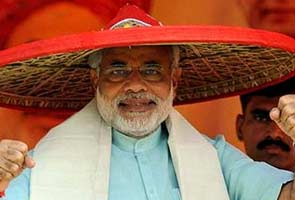 Ahmedabad:
A business delegation from Pakistan met Gujarat Chief Minister Narendra Modi on Friday and discussed issues pertaining to trade and industry between Gujarat and Pakistan.
The delegation of Karachi Chamber of Commerce and Industry (KCCI), which is in Ahmedabad to participate in 'Asia Colour Chemicals Mega Exhibition', invited the Chief Minister to Karachi.
The meeting with the KCCI delegation was held at Modi's residence in an extremely cordial atmosphere, official sources said.
They invited Modi to visit Pakistan and also to address the corporate heads of Pakistan's industries and business on the 'Gujarat model' of development through video-conferencing to be arranged by the KCCI, sources said.
The delegates also held a detailed discussion about how to improve relations between the two regions, they said.
According to sources, considering the long association between Gujarat and Sindh regions, the delegates urged Modi to use his good offices to start a direct flight between Ahmedabad and Karachi.
The five-member delegation that held talks with Modi included Zafar Ahmed and Asif Iqbal Hada.