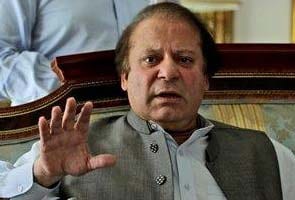 Lahore:
Prime Minister-elect Nawaz Sharif today said Pakistan wants to resolve all outstanding issues with India through dialogue.
Sharif, whose PML-N party is set to form the government following its victory in the May 11 polls, made the remarks when Indian High Commissioner Sharat Sabharwal called on him at his residence at Raiwind in Lahore.
They discussed matters related to improving relations between the two countries, PML-N officials said.
Punjab Chief Minister-designate Shahbaz Sharif and senior PML-N leader Ishaq Dar, who is expected to be made federal Finance Minister, were present during the meeting.
Since his party's victory in the polls, Sharif has spoken frequently about his plans to improve relations with India.
The PML-N chief had said he is keen on resuming the India-Pakistan peace process that was interrupted in 1999 by then army chief Pervez Musharraf, who ousted Sharif's government in a military coup.
However, during a recent meeting with Sharif, army chief General Ashfaq Parvez Kayani reportedly asked the PML-N chief to "go slow" on relations with India.
.