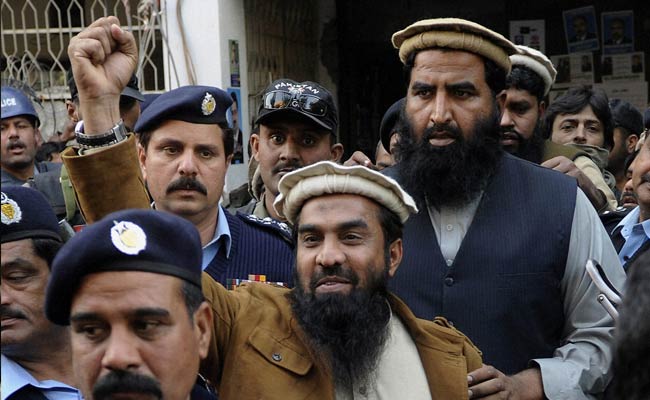 Lahore:
Despite the 'breakthrough' bilateral talks between PM Modi and Nawaz Sharif in Ufa, which promised to expedite justice in the Mumbai attacks case, the Pakistan prosecution has refused to file a fresh petition seeking voice samples of 26/11 mastermind Zaki-ur-Rehman Lakhvi.
The chief of prosecution in the case in Pakistan, Chaudhry Azhar, said that the "government will not file a fresh petition in the trial court requesting for obtaining voice sample of Lakhvi". He said that a petition seeking his voice sample was rejected by a trial court in 2011.
"The issue of obtaining voice sample of Lakhvi has been over. We had filed an application in the trial court in 2011, seeking voice sample of Lakhvi but the judge (Malik Akram Awan) had dismissed it on the ground that there is no such law exists that allows obtaining of voice sample of an accused," Mr Chaudhry told the Press Trust of India.
"We have told India in writing that there was no law in Pakistan that allows obtaining a voice sample of an accused. Even there is no such law in India and the USA," Mr Chaudhry said, adding that such a law can be introduced only through the Pakistani parliament.
However, Ujjwal Nikam, the public prosecutor on the case in India said that an "adverse inference" has to be drawn with the accused refusing to give a voice sample and that the prosecution should have taken a voice sample earlier.
"Pakistan prime minister assured PM Modi that they were ready to give the voice sample, then how can Lakhvi refuse it? According to the law in Pakistan, if any accused person refuses to give voice sample, necessary adverse inference is required to be drawn. Why Pakistan prosecution did not take the voice sample earlier in the course has to be now answered by Pakistan," he said.
Reacting to the criticism drawn by the Pakistani prosecutor's statement, Pakistan High Commissioner Abdul Basit has warned against drawing any "premature conclusions". He said both the sides had not met and discussed ways to expedite the trial as agreed in the joint statement issued after the two leaders met in Russia.