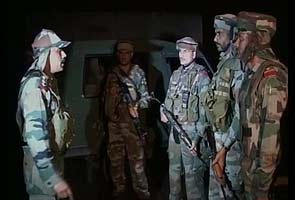 New Delhi:
Amid heightened tension along the Line of Control (LoC) in Jammu and Kashmir, Pakistani forces have yet again violated the ceasefire. Firing took place at around 2 pm in the Mendhar district of Jammu and Kashmir; automatic weapons and mortars were used.
This is the 20th ceasefire violation by Pakistan in 10 days.
The Indian Army today said it has inputs that Pakistan is trying to engineer more Border Action Team (BAT) attacks.
Analysts say the BAT comprises of members of Pakistan's commando Special Services Group and terror group Lashkar-e-Taiba, for the brutal killing of its two soldiers in January and the killing of five jawans along the LoC in Poonch, Jammu and Kashmir, on August 6. (
Read more
)
There have been 70 ceasefire violations by the Pakistani troops this year from January one to August 5, which is 85 per cent more than the last year during the same corresponding period, Army officials said.
The fierce exchanges in recent weeks have cast a shadow on the prospect of the 2003 Indo-Pak border truce. India and Pakistan entered into the border ceasefire as a confidence building measure during the NDA rule and it will complete one decade on November 26, 2013.
The ceasefire violations have been reported on daily basis for past nine days without a break, forcing Indian troops to retaliate, they said.
"Pakistan troops have been firing on our forward posts daily for past couple of days. They are firing intensely with mortar bomb, rockets, RPG and high calibre weaponry. Pakistan is not showing any respect to the Indo-Pak ceasefire. They are violating it daily by firing at us. Where is sanctity of this truce," Brigadier Sengupta said, maintaining that Indian troops have always respected the truce despite provocations in the past.
"Not only this there is also threat of Pak BAT attacks on our posts so the troops are alert and vigilant round the clock," said Col Anai Shanker of unit deployed in the border-sector.
Mr Sengupta said the firing from Pakistani side was aimed at helping terrorists infiltrate and demoralise the troops posted along LoC. "But the morale of our troops is very high."