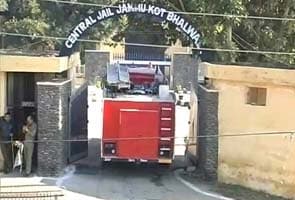 Jammu:
Tension between India and Pakistan has flared up with a Pakistani prisoner fighting for his life after he was attacked seriously in a jail.
The violence comes as Sarabjit Singh, an Indian jailed 16 years ago in Pakistan for terrorism, is being cremated with full state honours in his village in Punjab. The 49-year-old died yesterday from the grievous injuries after being assaulted in a prison in Lahore with bricks by other inmates.
Worried about retaliatory attacks in India, the Home Ministry last evening had asked all states to increase the security for nearly 200 Pakistani prisoners who are in jail across the country.
"This obvious retaliation to the death of Indian prisoner Sarabjit Singh is condemnable," said a statement from the Pakistan foreign ministry today about the assault on its citizen.
The Jammu and Kashmir government has ordered an inquiry and the jail superintendent has been suspended.
Pakistani diplomats in India will be granted access to the injured prisoner, 54-year-old Sanaullah, who was hit on the head with a hammer by an ex-soldier convicted of murder.
The Indian Foreign Ministry described the attack as "regrettable." A spokesperson said, "The matter is being investigated and the guilty will be punished."
Sanaullah had been imprisoned after being convicted for terrorist activities. He was photographed with a swollen black eye and a bloodied beard as he was rushed into hospital in Jammu. He is likely to be moved to a larger hospital in Chandigarh later today.
Sarabjit Singh's body was flown home on a special plane after New Delhi censured Islamabad, asserting that it was the responsibility of the Pakistani government to protect Indian citizens in jail.
Dr Manmohan Singh said yesterday, "The criminals responsible for the barbaric and murderous attack on him (Sarabjit) must be brought to justice."
Get Breaking news, live coverage, and Latest News from India and around the world on NDTV.com. Catch all the Live TV action on NDTV 24x7 and NDTV India. Like us on Facebook or follow us on Twitter and Instagram for latest news and live news updates.