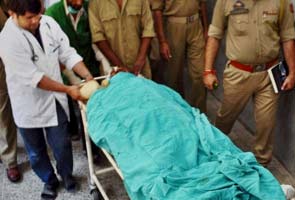 Chandigarh:
Pakistan High Commission officials visited injured Pakistani prisoner Sanaullah Ranjay in the Intensive Care Unit of a hospital in Chandigarh early this morning. Sanaullah was airlifted to Chandigarh yesterday, after he was attacked in a jail in Jammu.
"Pakistan High Commission officials visited the injured prisoner Sanaullah in Chandigarh hospital at 03:30 hours in the morning. They also met the attending doctor," a spokesperson in the ministry of External Affairs said.
Sanaullah, 54, was assaulted with bricks by an ex-soldier convicted of murder. Doctors attending to him have said he has suffered a fracture in his skull. Doctors have also said there is severe fluid accumulation in his brain.
Pakistan wants India to allow Sanaullah to return home for treatment "on humanitarian grounds." It has alleged that the attack on him was an "obvious retaliation to the death of Indian prisoner Sarabjit Singh."
The Jammu and Kashmir government has ordered an inquiry into the assault on the Pakistani prisoner and the jail superintendent has been suspended.