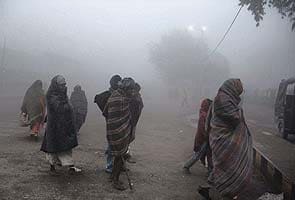 New Delhi:
The spell of bone-chilling cold continues in Delhi, a day after the national capital witnessed its coldest day in 44 years. The minimum temperature settled three notches below average at 4.4 degrees Celsius today, a day after the national capital recorded the coldest day in 44 years.
The maximum temperature today is expected to hover around the 13 degrees Celsius mark. Yesterday, the maximum temperature dropped to 9.8 degrees Celsius on Wednesday. This was 11 degrees below normal. The minimum temperature was 4.8 degrees. At Palam, on the fringes of Delhi, the maximum temperature was 9.7 degrees.
And adding to the winter woes are the thick fog covers in the mornings, the depleted sunshine and icy winds. The caps, mufflers, gloves and long coats are out. (
Share your pictures, videos here
)
Visibility on the main runways at the Indira Gandhi International Airport was around 50 metres on Wednesday. More than 30 flights were delayed. Seven flights were cancelled. A flight from Hong Kong was diverted to Mumbai.
Situation was better today as flight operations remained largely normal at the Delhi airport. The visibility at the main runway remained between 150 and 225 metres through the night and in the morning it increased to 1,200 metres, airport sources said, adding so there was virtually no affect on flight movement.
The Meteorological Department has predicted very dense fog over the next few days, not just in Delhi but many parts of North India.
The entire region is shivering due to intense cold wave as plummeting mercury claimed 15 more lives in Uttar Pradesh, with thick fog cover throwing normal life out of gear in many places.
Officials said four people died in Muzaffarnagar which remained the coldest place with 0.6 degrees Celsius, followed by three in Mathura, two each in Agra, Bulandshahr, Etah and one each in Barabanki and Mirzapur.
With this, the death toll in the state this winter has reached to 107.
In Jaipur, the authorities directed government and private schools not to hold classes up to Class 8th till January 12. The timing for students of classes IX to XII had also been rescheduled, District Collector T Ravikant said. The classes for these students will now begin from 10 am, he said.
Meanwhile, Himachal continued to reel under sub-zero temperatures, with Keylong remaining the coldest place with a minimum of minus 8.9 degrees, followed by Kalpa with minus 3.5 degrees.
While the key tourist resort of Manali shivered at minus 3 degrees, capital Shimla recorded a low of 2.1 degrees.
Cold wave swept entire Rajasthan too, where Churu was the coldest place with a minimum temperature of 1.6 degrees, followed by Pilani with 2.6 degrees.
Bikaner, Sriganganagar, Jaipur, Dabok and Jaisalmer recorded night temperatures of 4, 4.5, 5.2, 6.4 and 6.5 degrees respectively while other stations recorded minimum of 7 and 8 degree Celsius.
Punjab and Haryana also remained in the grip of severe cold, with mercury dropping by up to three notches below normal in various parts.
Narnaul in Haryana remained the coldest place in the region with a minimum of 2.4 degrees, down by three notches below normal.
Bhiwani and Hisar had a low of 3.6 and 4 degrees Celsius respectively, while Ambala and Karnal shivered at 5.5 and 5 degrees, down by two notches below normal.
Temperature in Union Territory of Chandigarh recorded a low of 4.2 degrees, dipping by a degree below normal.
According to Met department forecast, cold wave will continue to persist in the region for the next 2 to 3 days with the temperatures remaining below normal in many places.