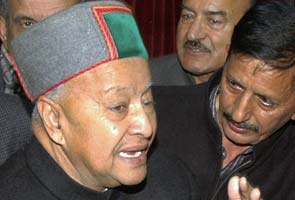 Shimla:
A committee has found over 1,000 telephones of politicians, bureaucrats and journalists were tapped during previous Prem Kumar Dhumal-led BJP government in Himachal Pradesh, Chief Minister Virbhadra Singh said.
"We have received the final report of three-member expert committee for forensic experts of state Forensic Laboratory and a casual look on the report revealed that over 1,000 phones were tapped," Mr Singh told reporters in Shimla.
"But the details and the contents would be known after thoroughly studying the report in detail," he said.
The chief minister alleged that the tapping could not have taken place without the knowledge of the then chief minister Prem Kumar Dhumal, who was also the Home minister.
"Dhumal was Home minister. How he can deny that phone tapping was not in his knowledge? He must own the moral responsibility if it was done. He cannot absolve himself of this conspiracy," Mr Singh said.
The chief minister said stern action would be taken against those found to be involved in the matter.
"Phone tapping is illegal and infringement of democratic rights of people, especially right to privacy and all those involved in this act would be severely dealt with," he said.
"Nobody will be spared, no matter how high (he/she) may be," he said.
Official sources said a laboratory analysed the data retrieved from hard disks of computers seized from the CID headquarters on December 25, the day the incumbent chief minister assumed charge.
Most of the conversations were of Congress leaders while they were in the opposition, and conversations of some top government functionaries, BJP dissidents and journalists also figured.
"What is clear is from this report is that the BJP government was indulging in conspiracy to organise surveillance on senior opposition leaders. I was on the top of the list. Even there were instances of bugging in my offices during my Chandigarh visits (in Himachal Bhawan)", he alleged.
Mr Singh said the home department never gives permission to tap calls in such huge volumes.
Denying any knowledge or involvement in phone tapping during his chief ministership from December 2007 to December 2012, former chief minister Prem Kumar Dhumal said, "It is the home secretary who decides that whose phone is to be put on observation and not the chief minister".
Out of 789 telephones tapped by CID upto 2011, the permission for tapping the telephone from competent authority was taken only in 34 cases, an official spokesman said.
The phones tapped by vigilance and anti-corruption departments are not included in these telephones, he said.
A just-concluded inquiry of the State Forensic Science Laboratory found the previous government, in violation of the Indian Telegraph Act, had recorded telephonic conversations of politicians, bureaucrats and other high-ranking people, he added.
"Today I got the (Forensic lab) report and have told my officials to look into that in how many cases the calls were recorded without prior approval of competent authority and in violation of norms," Mr Singh, who started his record sixth stint as chief minister on December 25, said.
Refusing to divulge the names of people whose phones were kept under surveillance, Mr Singh said there was intrusion in the privacy of some politicians and the huge number of telephones allegedly tapped by the government indicated that phone taping was done with wrong intentions and all these aspects were being looked into.
Get Breaking news, live coverage, and Latest News from India and around the world on NDTV.com. Catch all the Live TV action on NDTV 24x7 and NDTV India. Like us on Facebook or follow us on Twitter and Instagram for latest news and live news updates.