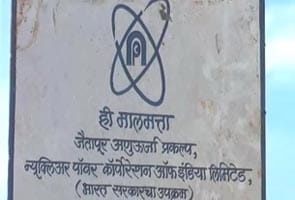 Mumbai:
One person was killed in police firing as protests against the proposed Jaitapur nuclear power plant in coastal Ratnagiri district today turned violent with agitators setting ablaze a police station.
The man, identified as Tavrez Sejkar, was killed in police firing at the Sakhrinate village when around 600-700 locals protesting against the proposed 9,900 MW project, attacked the local police station, Maharashtra Home Minister R R Patil told the state Assembly.
He said the agitators stormed the police station when most officials were on duty at the project site in Jaitapur since the locals were to stage a demonstration there.
Anger was brewing in the area following Union Environment Minister Jairam Ramesh's statement here last Friday ruling out a "rethink" on the project.
Patil said the protesters were also suspected to have decamped with some firearms and ammunition.
"A deputy superintendent of police and some constables have been injured in the incident," Patil said, adding the violent crowd set afire some police vehicles, forcing the police to fire in the air to scare the protesters away.
However, as that failed to bring the situation under control, police fired at the crowd resulting in the death of Sejkar.