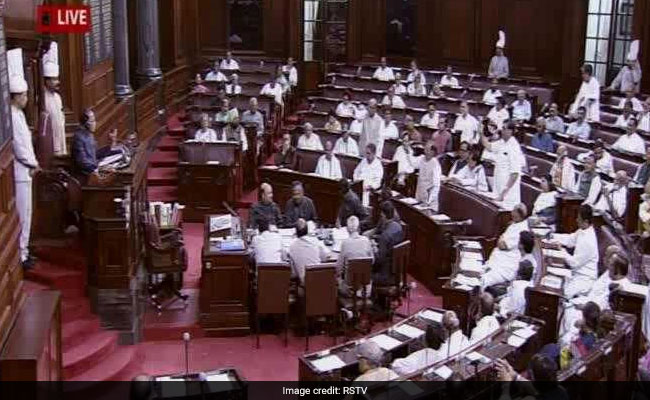 Highlights
Farmer suicides 8 to 10 per cent of all suicides: agriculture minister
Congress walkout from Rajya Sabha led by Digvijaya Singh
Farmers in Madhya Pradesh, Tamil Nadu, other states have been protesting
New Delhi:
The opposition Congress staged a walkout in the upper house of parliament today during a discussion on farmer suicides. The walkout was led by senior Congress leader Digvijaya Singh after agriculture minister Radha Mohan Singh made the point that farmer suicides form only 8 to 10 per cent of the total suicides in the country.
"Suicides are never a good sign, but total suicide rates suggest 8-10% of total suicides are comprised of farmers," the minister said. This is not to say that the number is any less, but the data needs to be kept in mind, he said, and then went on to elaborate on the measures the government has taken for farmers.
At this, Digvijaya Singh said, "Your schemes are so good, you have handed over so much, but the farmers are still distressed". The senior Congress leader then walked out, followed by the members of his party.
Over the last few months, Delhi has been witnessing a huge protest by farmers from Tamil Nadu, who are carrying the ashes and bones of farmers, who, they say, committed suicide. A number of children, who have lost their fathers, are among the protesters. In June, huge protests started by farmers in Madhya Pradesh with loan waiver demand, spread to Uttar Pradesh, Haryana and Rajasthan.
The issue has thus been high on the opposition's list drawn up ahead of the beginning of monsoon session. The matter had been raised during the budget session in April too, with Rajya Sabha deputy chairman PJ Kurien asking the government to talk to the protesting farmers in Delhi to end their agitation.
Yesterday, Rajya Sabha members had debated the agrarian crisis and the reasons behind farmers' suicides in the country. Minister Singh was expected to respond to the issue today.
Demanding crop loan waivers, the protesters say farmers who committed suicide were under great pressure to pay back the borrowed money.
Today, the minister said the Narendra Modi government has been working towards betterment of farmers. "Farmer initiatives and efforts were converted into a mission mode under Modi. Schemes initiated by us have led to awareness among farmers." Over the last three years, awareness has increased and there is active discussion, he added.