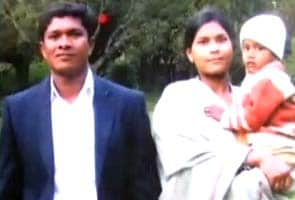 Bhubaneswar:
Racing against time to release the abducted BJD MLA Jhina Hikaka, the Odisha government has finally decided to withdraw cases against 13 prisoners of the 'Chasi Mulia Adivasi Sangh' (CMAS). Maoists demanded charges against 29 prisoners dropped.
7 persons from Chasi Mulia Adivasi Sangh (CMAS) have applied for bail.
Odisha's Home Secretary UN Behera said, "As a follow up to yesterday's announcement it has been decided by the government to take steps for withdrawal of prosecution against 13 persons."
Earlier, the government said that it will seriously consider withdrawal of prosecution in "suitable cases" involving jailed rebels if the ultras free the legislator.
"We hope that (after) this proactive action of the government, this goodwill gesture of the government they should take appropriate steps to release Mr Hikaka," he said.
The Maoist abductors have, meanwhile, called media persons to say that they will not extend the deadline for the release of the BJD MLA and that a
Praja
(public) court will decide his fate. Aruna, the spokesperson for Andhra Odisha Border Special Zonal Committee of the CPI-Maoist, while talking to media persons on record, has said that she has no idea about when the
Praja
court will be held or whether the MLA will be allowed to walk free any time soon.
Sources close to the Maoists have told NDTV that Mr Hikaka would not be harmed but he may be told to resign both as an MLA and member of the ruling Biju Janata Dal. The Maoists are also likely to issue a stern warning to the state government while handing him over either to the local people or mediapersons.
The abducted MLA Hikaka on Tuesday spoke with the state Chief Secretary BK Patnaik and the BJD MP from Koraput, Jayaram Pangi over phone from the Maoist camp and requested them to take the Maoist demands seriously and thereby help ensure his safe release. He is believed to have said he is safe and in good health but worried over the delay in resolving the matter.
Sources close to the Maoists said they are angry over the state government's obstinate stand in regard to the release of Gananath Patra, the 70-year-old ailing adviser of the Maoist-backed 'Chasi Mulia Adivasi Sangh' (CMAS). Patra's name figures in the list of four additional Maoist prisoners they want released. "It is not going to be as easy as it was in the case of the two Italians abducted by the Odisha Maoists," the source warned.
Meanwhile, dreaded Maoist leader Chhedda Bhushanam alias Ghasi whose name was dropped by Maoists from the list of 30 prisoners they want freed has appealed to the state government to take quick decisions on the Maoist demands and resolve the MLA hostage crisis as soon as possible.