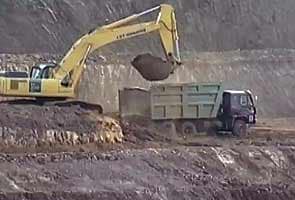 Bhubaneswar:
Twenty-seven Odisha mine-owners, including the Tatas, Jindals and Aditya Birla group, have been slapped heavy penalties - totalling around Rs 58,000 crore - for alleged illegal mining in the state.
The notices sent out by the Odisha government last month say the companies had drawn more iron and manganese ore than they were permitted to from mines leased in Joda, Keonjhar district.
The Tata group faces the steepest fine - Rs 33,000 crore. Essel Mining, owned by the Aditya Birla group, is next: Rs 4,308 crore. The Jindal group has been asked to pay Rs 2,845 crore.
The penalties have been calculated according to the market price of the ores.
Sources said the notices were issued on October 26, four days before a visit by the MB Shah Commission to Joda. The commission is investigating illegal mining of iron and manganese ore in Odisha and other states.
According to BK Mohanty, former director of mining and geology, Odisha, the notices are flawed as only mining outside a leased area was considered illegal. He said the Odisha government should not have allowed the transportation of ores produced in excess out of the mines or collected royalty on it.
The companies are expected to challenge the notices in court.
State mining department sources said the notices should have come much earlier, considering the allegations that the Odisha government was lax on illegal mining.