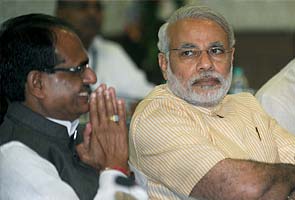 New Delhi:
Madhya Pradesh Chief Minister and BJP leader Shivraj Singh Chouhan has compared fellow partyman
Narendra Modi
with Sardar Patel, known as India's iron man.
"The stature and work of Shri Narender Modi can only be compared with Sardar Patel," Mr Chouhan tweeted on Saturday.
Mr Chouhan's tweet came a day before the Gujarat Chief Minister's mega rally in Hyderabad to kick off the BJP's election campaign for the 2014 general elections. Mr Modi was recently anointed as the BJP's campaign committee chief, a move many see as the party's plan to project him as its prime ministerial candidate for the national elections.
Mr Modi's detractors, however, accuse him of not doing enough to protect hundreds of Muslims from being killed during the Gujarat riots of 2002. He said recently in an interview that he believed he did everything he could to check the violence that lacerated his state.
Mr Chouhan has been often projected by Mr Modi's rivals, especially Mr Advani, as a counter the latter's claim to being the most efficient and successful administrator among the BJP's chief ministers. Mr Advani has often drawn a comparison between the two, praising Mr Chouhan's achievements in developing his state as more significant than the growth story that Mr Modi has scripted in Gujarat.
Mr Chouhan has not always sought to play down that internal rivalry. As he prepares for assembly elections scheduled for later this year, Mr Chouhan, for long an understated politician, has in recent times even taken to tweeting prolifically about his government's successes much like Mr Modi does.