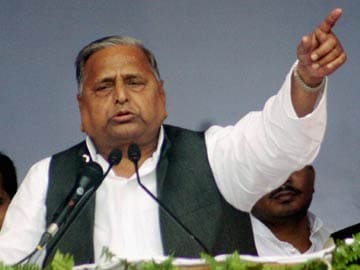 Lucknow:
While the general elections due by May are increasingly being pitched as a clash between the BJP's official prime ministerial candidate Narendra Modi and the Congress' Rahul Gandhi, there is another man who believes he has a shot at being PM and his name is not Arvind Kejriwal.
In Lucknow, the 60 ministers of Uttar Pradesh met Samajwadi Party chief Mulayam Singh Yadav today, and vowed to ensure that "Netaji" will become PM after this year's national elections at the head of a third front government.
Mulayam reportedly told the ministers to work hard to ensure that as many SP candidates as possible win from their areas.
The ministers then pledged to help the party win a rich haul of Lok Sabha seats in UP, which sends 80 MPs to the lower house of Parliament, said Awadhesh Prasad, UP's Minister for social welfare. That, he said, would go a long way in strengthening the chances of a non-Congress, non-BJP government take charge at the Centre and fetch their party leader the prime ministership.
The SP led the UP tally in 2009 winning 23 seats. The Congress with 21 and BSP with 20 followed close behind. Two years later, Akhilesh Yadav, Mulayam's son, scripted a spectacular win for his party in the Assembly elections to oust Mayawati's BSP government.
Mr Yadav has reportedly nursed the PM dream for long years. In 1996 came his closest chance, when the United Front coalition government had to choose between Mr Yadav, Left leader Jyoti Basu and HD Deve Gowda of Karnataka.
Mr Yadav's chances were reportedly nixed by leaders like Lalu Yadav, and Mr Deve Gowda was picked.
The SP extends external support to the Congress-led UPA government at the Centre, but it has been a stormy relationship and Mr Yadav has made it clear that the arrangement will lapse with this term.
He has periodically hinted at regrouping the third front.
The recent emergence and success of Arvind Kejriwal's Aam Aadmi Party has, however, thrown most pre-poll calculations asunder.