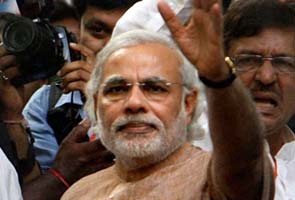 Washington:
A panel has urged the United States to maintain a ban on a visa to Gujarat chief minister Narendra Modi over 2002 post-Godhra riots, even though he is a favourite to run for prime minister.
In a wide-ranging annual report, the US Commission on International Religious Freedom said that Narendra Modi should be "inadmissible to the United States" due to "severe violations of religious freedom."
"There is significant evidence linking him to the violence and the terrible events that took place in Gujarat and for this reason, a visa would not be appropriate," Katrina Lantos Swett, chair of the Commission, told reporters on a conference call.
Mr Modi led the state in 2002 when riots broke out that left 2,000 dead, most of them Muslims. One of his former ministers was jailed for life for instigating the killings but several investigations cleared Mr Modi of personal responsibility.
With Gujarat's economy booming, Mr Modi has tried to rebrand himself as a pro-business reformist and is considered a frontrunner to lead the Bharatiya Janata Party (BJP) in next year's national elections.
The US State Department has refused to let Mr Modi visit. But it has faced growing calls to change its position, with three junior Republican members of Congress visiting Gujarat in March and urging a visa for Mr Modi.
The US Commission on International Religious Freedom, whose board is appointed by President Barack Obama and congressional leaders of both parties, advises the government on policy but does not have power over visa decisions.
In its report, the commission called for a database of foreigners who would be denied admission to the United States over religious freedom violations.
The annual report strongly criticised several countries over their records on religious freedom including China, Iran, Myanmar, Pakistan, Saudi Arabia and Vietnam.