New Delhi:
Highlights
The Congress President hit out at the culture of vigilante violence
She blamed those who are responsible for enforcing the law
Mrs Gandhi said the country's inclusive concept was "under attack"
In a veiled but scathing attack on the NDA government, Congress president Sonia Gandhi on Saturday hit out at the culture of vigilante violence in the country that she said was being actively supported by those supposed to enforce the law. Without naming the BJP-led government at the centre, Mrs Gandhi said the country's inclusive concept was "under attack" and the "domestic misrule" was a big challenge facing the country.
Mrs Gandhi said, "The tried and tested idea of India has been thrown fundamentally into question by rising intolerance, by malevolent forces that tell Indians what they cannot eat, who they cannot love, what they cannot say, indeed, what thoughts they cannot hold."
The Congress president's remarks come against the backdrop of several incidents of
beef-related attacks
by crowds. Last week, a
16-year-old Muslim boy
was killed
on a train
near Delhi by a mob that accused him of being beef-eater.
In her speech, the Congress president did not take any names. She was speaking in the presence of President Pranab Mukherjee at the re-launch of the National Herald, a newspaper founded by Jawaharlal Nehru and run by the Congress. Later,
Mr Mukherjee
also stressed that
people must remain vigilant against challenges to the fundamental tenets of India's pluralist society
.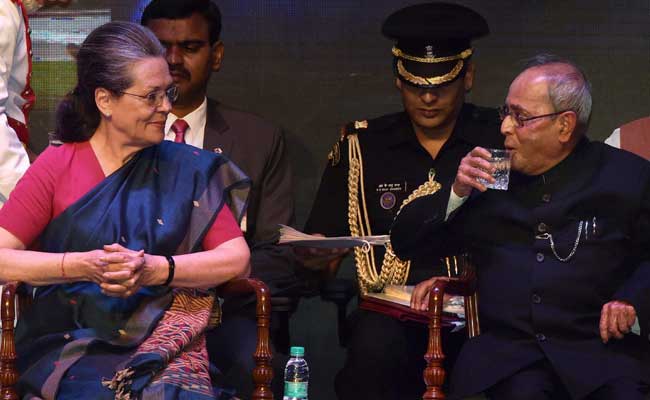 Priyanka Gandhi, who was among the audience, later said she agreed. "It makes my blood boil when I see these things on TV and the Internet," she said, referring to the mob killings.
The Congress president said it was important to keep on speaking against the wrongs committed, asserting that "if we do not raise our voices, if we do not speak up, our silence will be taken as consent."
"It is one of the ironies of our present times that the soaring reach of their (people such as Mahatma Gandhi, Nehru and BR Ambedkar) work is now sought to be obliterated or in some cases appropriated, by individuals and groups who are in direct opposition to their beliefs and principles," she said.
"Let us not forget that they made no sacrifices to shape India's destiny. Though their language is modern, they seek to take India backward to further their narrow sectarian vision, their modern jargon conceals pre-modern beliefs," she added.