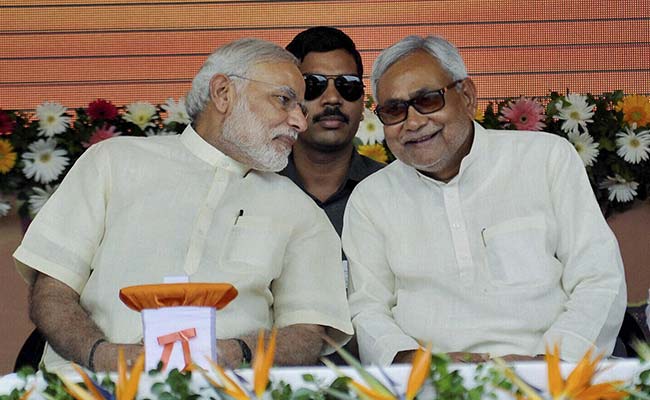 New Delhi:
Bihar Chief Minister Nitish Kumar will write to Prime Minister Narendra Modi on Twitter today, objecting to his 'DNA' comment made recently at a rally in Muzaffarpur, sources have told NDTV.
Nitish's comments, in the form of a letter, will likely be released on Twitter in a few hours.
During his address at NDA's 'Parivartan Rally' on July 25, PM Modi had alleged that Mr Kumar - who snapped ties with the BJP two years ago because of his legendary rivalry with him - practices "political untouchability," recalling that he had once refused to offer him dinner.
"There seems to be some problem in his DNA because the DNA of democracy is not like that. In democracy, you give respect even to your political rivals," he had said.
Mr Kumar had immediately responded, saying PM Modi had insulted all Biharis.
"The Prime Minister said there is a problem in my DNA. I'm a son of Bihar, so it is the same DNA as the people of Bihar... I leave it to the people of Bihar how they judge a person who maligns their DNA," he had tweeted.
In his speech, PM Modi had also referred repeatedly to Mr Kumar having insisted on keeping him away from election campaigns in Bihar when their parties were partners.
The Prime Minister was in Bihar to power up his party's campaign for the Assembly elections due by October.
The BJP takes on the combined might of Mr Kumar's Janata Dal United and Lalu Prasad's RJD in what is billed as the most crucial election since last year's Lok Sabha polls. The Congress and its allies have also joined hands with Nitish and Lalu.