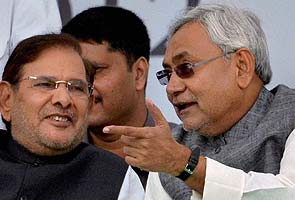 Patna:
Bihar Chief Minister Nitish Kumar today vowed to keep up the pressure for his state's special status demand and hinted that the issue could determine which alliance his party, the Janata Dal (United), would back after the 2014 general elections.
"Special status should be based on the backwardness of a state. The states that have got special status right now are far developed than Bihar. Special status is our right and we are determined to continue our struggle," Mr Kumar told supporters at his Adhikar rally in Patna.
"If our demand isn't met, whoever forms the government at the Centre in 2014 will have to grant Bihar special status," he said.
Mr Kumar claimed Prime Minister Manmohan Singh avoids him whenever he wants to meet on the issue. "Unnecessary excuses are given to deprive us of special status," he said, announcing a rally at the Ramlila grounds in Delhi in March next year.
The JD(U) leader said a special status would pace up Bihar's development and help it match the national average on various development and social parameters.
The Adhikar show of strength came on a day when Gujarat Chief Minister Narendra Modi, partner BJP's star leader and a man that Mr Kumar has made no bones about his antipathy for, was in Patna.
Mr Modi's visit was a private one - to pay respects to veteran BJP leader Kailashpati Mishra, who died on Saturday.
Mr Modi is increasingly being talked about as the likely BJP candidate for prime minister in 2014, once he has delivered an expected big win in Gujarat in December this year.
Mr Kumar's JD(U) is an important constituent of the National Democratic Alliance or NDA that the BJP leads, and he is clear Mr Modi as PM is not acceptable to him.
This has created considerable tension between the two allied parties. For one, Mr Kumar has repeatedly questioned Mr Modi's secular credentials, openly attacked him over the Gujarat riots and has not allowed Mr Modi to be part of the NDA's campaign plans in Bihar despite the BJP being a partner in government in the state. He has also said he will not be available to campaign in Narendra Modi's Gujarat, where the JD(U) will field about 50 candidates.
Mr Kumar too is said to harbour ambitions to ascend to the top post at the national level, and though he has vociferously and repeatedly denied this, his supporters have often and enthusiastically pushed his candidacy as the NDA's best bet in 2014.