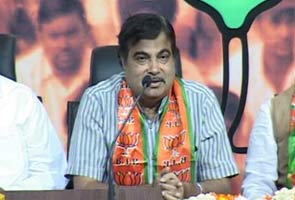 Mumbai:
BJP president Nitin Gadkari has sued an RTI activist, Anjali Damania, who told NDTV that he wanted to suppress information about the irrigation scam worth 72,000 crores in Maharashtra.
(See legal notice)

On Wednesday night, Ms Damania told NDTV that when she met Mr Gadkari at his home in Mumbai in August this year, he told her that he has a business relationship with Sharad Pawar, who heads the NCP, and whose nephew Ajit has been placed at the heart of the scam by Mr Gadkari's party. The activist said that Mr Gadkari tried to dissuade her from filing a public interest litigation to expose the swindle. Mr Gadkari has denied meeting Ms Damania.
Mr Gadkari's letter to the activist accuses her of defamation and of giving "false statements to television channels such as ABP and NDTV." It says, the politician "has a good reputation in the country and in public at large" and has "worked and fought extensively for the welfare and rights of agriculturists of the country."
Ajit Pawar resigned as Deputy Chief Minister of the state earlier this week, forcing a political crisis in Maharashtra which is co-governed by the Congress and the NCP. He said he was tired of recurring and unfounded allegations that as Irrigation Minister for a decade, he deliberately took decisions designed to help private companies who were hired to build canals and dams.
Ms Damania has been hailed as one of the two whistle-blowers in the scam. Using the Right to Information Act, she unearthed documents that proved that crores were sanctioned for irrigation projects that never materialized. In retaliation, she says, the government seized a piece of land that she owned. The other person credited for exposing the irrigation scam is Vijay Pandhare, an engineer with the Irrigation Department, who sent letters to Chief Minister Prithviraj Chavan alerting him to financial malpractices.