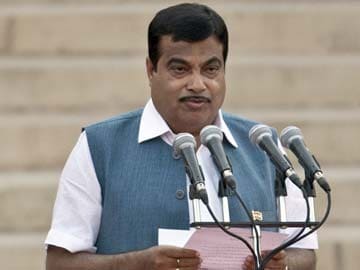 New Delhi:
Plans to link the MNREGA scheme with the afforestation progamme could get a huge boost with Rural Development Ministry officials saying that the idea mooted by Union minister
Nitin Gadkari
has lot of promise.
Mr Gadkari, who is holding the additional charge of the ministry, held a review meeting with its officials and informed them about the government's plans to plant trees along the village and district roads and state highways.
He sought their suggestions to link the tree plantation programme with the rural job scheme launched by the UPA government.
According to the minister, such a plan has the potential to employ 30 lakh youth.
"MNREGA funds can be utilised for planting trees along roads in rural areas. It has a lot of promise," a top official said about the suggestion put forward by Mr Gadkari, who is the Minister for Road Transport, Highways and Shipping.
Sources said at the meeting, the minister was of the opinion that MNREGA funds should also be utilised for watershed management programmes in villages.
Earlier in the day, addressing a programme, Mr Gadkari said that the Narendra Modi government plans to plant 200 crore trees along the entire 1 lakh km National Highways network across the country to employ jobless youth.
He said that a similar scheme could be implemented under MNREGA along the village and district roads and state highways.
He also stressed upon the need for water conservation stating that if even 15 per cent of rainwater could be tapped out of the 60 per cent that goes to the sea, water scarcity could be avoided and people can be supplied with potable water besides irrigation of agriculture land.
Inviting suggestions from citizens, Nitin Gadkari said, "We are also exploring the possibility of people earning some sort of revenue from the trees they help plant."
Keeping in mind the nature of national highways, particularly those in hilly landscaped areas like Uttarakhand that run alongside rivers, Mr Gadkari has already asked his office to explore the possibility of carving out roads that are not alongside the river.
"We already are sympathetic to what happened in Uttarakhand last year. It's also given rise to a situation where we must consider building long lasting roads that are not in danger of being eaten up by rivers in spate."
Major national highways in Uttarakhand including the crucial link between Rudraprayag and Guptakashi was severely broken at several different points with the furious river swallowing large chunks of the national highway during the flash floods last year.
Mr Gadkari was given additional charge of Rural Development, Panchayti Raj and Drinking Water and Sanitation Ministries after
Gopinath Munde
died in a road accident.