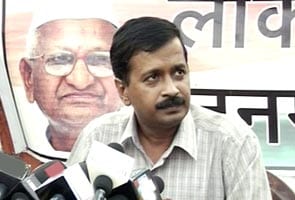 New Delhi:
Arvind Kejriwal has said that the government will pay dearly for the attacks it is launching on the activists that make up Team Anna. "If the government keeps targeting us like this, next time around, the people will deliver a movement that will be ten times larger than the one we saw in August," he said.
Mr Kejriwal was referring to the 12-day fast that Anna undertook, demanding that the government urgently introduce the anti-corruption Lokpal Bill. Anna's base camp at Ramlila Maidan in Delhi became the focal point for lakhs of Indians, frustrated with a government that seems to operate in a continuum of corruption.
Anna, who is 74, and his activists say the government is harassing them for their unwavering commitment to the Lokpal Bill. Mr Kejriwal has been sent an income tax notice for nine lakhs that he owes as a penalty for allegedly violating the terms of his duty when he was an Indian Revenue Service officer.
Another Team Anna member, Kiran Bedi, faced considerable embarrassment this week after The Indian Express revealed that she inflates her travel bills when she is asked to attend seminars or address gatherings. Ms Bedi has acknowledged that she charged hosts business class fares, then chose to fly economy, but stresses that the savings were bestowed upon the NGO she heads.
"Launch an inquiry against her, then give her the toughest punishment if she is guilty," Mr Kejriwal, clearly agitated, said today. "But let's not mix that up with the urgent discussions and need for a Lokpal Bill."
In a blog last night, Anna staunchly defended Ms Bedi and said "a gang of four" in the government is bent on character assassination. He said this is the same group that has tried to push the government against the Lokpal Bill and compared them to "goons". Anna did not list the ministers he includes in the "gang of four" but hints that they were on the drafting committee that was set up in April to work on the Lokpal Bill with Anna and four of his nominees. The committee ended with two separate drafts of the bill because the two teams were not able to resolve their differences.
The Lokpal Bill delivers a new ombudsman agency that will investigate charges of corruption against government servants.