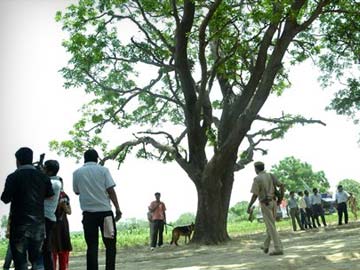 New Delhi:
The CBI is investigating alleged inconsistencies in the statements of the families of the two young girls who were found hanging in a small village in Badaun district of Uttar Pradesh in May this year.
The investigating agency - which was handed the case amid global outrage over the alleged gang-rape and murder of the two cousins, aged 14 and 16 years - has reportedly recovered the slippers of the older girl, being seen as crucial evidence in the investigation into their death.
The slippers were found, sources said, after the girl's family revealed under duress where they were. The slippers bore "physical marks," the sources said, but did not elaborate what these where. They have been sent for forensic examination.
Earlier, the family had allegedly withheld information on the whereabouts of a cellphone belonging to the older girl and about 20 days ago, gave it to the CBI in broken condition. The CBI, reportedly suspicious about the family seeming to withhold information, has already administered a polygraph or lie-detector test on the parents of the two girls and the results are awaited.
The two girls went missing from their house on the night of May 27. At the break of dawn the next day, their bodies were found hanging from a mango tree in the village. Autopsies had confirmed that they were raped before they died.
The families alleged that they were abducted, gang-raped and murdered by five young men of a family in the village. They also alleged that the local police had refused to act on their complaint the night the girls went missing.
All the five accused have been arrested and they too have been made to undergo polygraph tests as the case takes unexpected twists and turns and throws up more questions than answers.
Get Breaking news, live coverage, and Latest News from India and around the world on NDTV.com. Catch all the Live TV action on NDTV 24x7 and NDTV India. Like us on Facebook or follow us on Twitter and Instagram for latest news and live news updates.