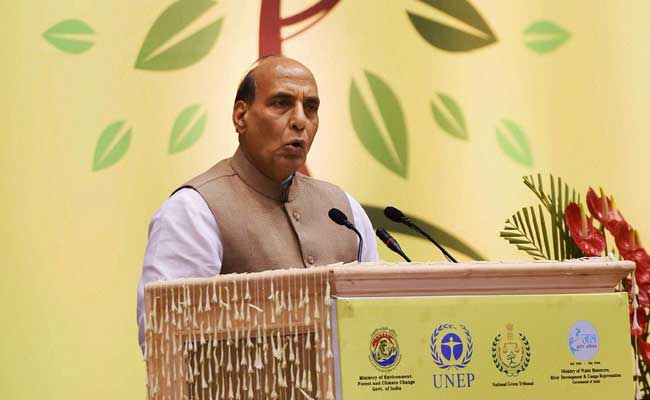 Shillong:
Union Home Minister Rajnath Singh on Monday said that there was a need to strengthen security along the international border in the northeastern region to curb smuggling of arms.
"We are trying to ensure border security through all possible means and to curb cross-border terrorism in the region," Rajnath Singh told journalists while replying to a query on Maoists getting arms through Myanmar and Bangladesh.
The home minister arrived in the Meghalaya capital on a two-day visit to attend the 181st Raising Day of Assam Rifles, the oldest paramilitary force in India.
"We (central government) will discuss with chief ministers of the northeastern states to check the smuggling of arms from across the international border and to other states in the country," he said.
"Whatever assistance is required from the central government would be provided to all the state governments."
On holding talks with militant groups, Mr Singh said the Centre was ready to hold talks with any militant group if they shun violence unconditionally.
"We are ready for talks with anyone provided they shun violence unconditionally," he stated.
Meghalaya Chief Minister Mukul Sangma had earlier expressed concern on the easy availability of arms at "throwaway prices", resulting in the mushrooming of armed militant groups in the state.
India shares a 1,600-km unfenced border with Myanmar and a 1,880-km border with Bangladesh in the north-eastern states.
The porous international border along the northeast has been used by the illegal weapons syndicate to smuggle arms and ammunition to northeastern militant groups.
An intelligence official said many militants from Myanmar "maintain good relations with northeast groups and they are getting protection for procurement of arms and ammunition".
He said most of the weapons, including AK-47 and AK-56 assault rifles, come via the Arakans mountainous area in Myanmar from Thailand and Cambodia.