New Delhi:
Actor Anupam Kher apologised today after journalists were heckled and roughed up during a march protesting against those returning awards over "rising intolerance" that he led in Delhi today.
"If any individual did this during the rally, I apologise," he said.
The police had to rescue an NDTV reporter and crew today after people surrounded and heckled them at the rally on "tolerance" fronted by Mr Kher and director Madhur Bhandarkar.
Angry protesters surrounded NDTV's Bhairavi Singh, who was reporting on the march to the Rashtrapati Bhavan, and verbally abused her. The reporter and her crew were also pushed around and slogans were raised before a police team managed to intervene and escort her to safety.
Several other journalists also complained that some protesters misbehaved with them.
Protesters accused the media of politically motivated and biased reporting, alleging that they had encouraged the swirling national debate on intolerance after dozens of public intellectuals gave up their honours criticising the Central government.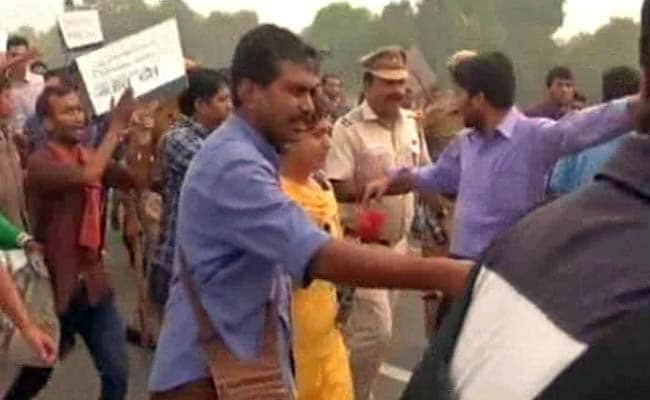 "From day one the government has been inviting these writers and intellectuals to sit and talk but they haven't," said one protester.
Delhi Chief Minister Arvind Kejriwal condemned the protesters who heckled the reporter.
This kind of treatment is unacceptable. I admire ur courage Ma'am. https://t.co/SYPjDcJ4io

- Arvind Kejriwal (@ArvindKejriwal) November 7, 2015
Reacting sharply to the incidents, Congress today said these are "disturbing scenes" and demanded "severest action" against those responsible for it.
"These are very disturbing scenes that every time you disagree or you think that there is a disagreement with the media, you start roughing up individual journalists. This is unacceptable," senior Congress leader Salman Khurshid said.
Earlier, actor Anupam Kher, who met Prime Minister Narendra Modi and President Pranab Mukherjee, claimed that the intolerance debate is an attempt to malign the image of the country.
"Nobody has the right to call our country intolerant. We are secular people and don't believe in selective outrage," Mr Kher said this morning.
"I have right to go to the President and say that we don't feel India is intolerant. These talks can't happen only on Twitter or Facebook, they need a personal presence," the actor has said.