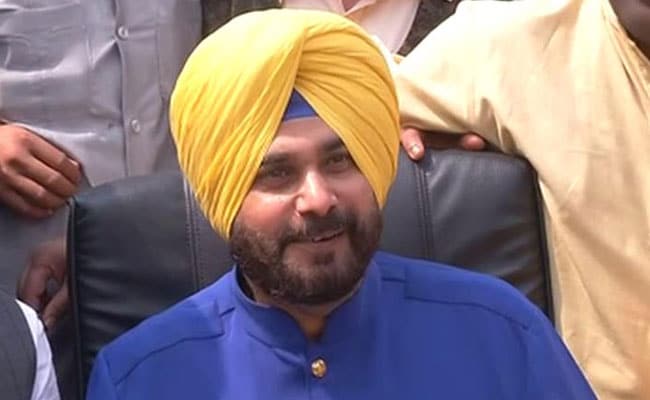 Highlights
Navjot Singh Sidhu's comments appear to show tension
He had been keen to be part of Amarinder Singh's team as deputy
"I am answerable to people. I also respect CM Sahib": Mr Sidhu said
Chandigarh:
Navjot Singh Sidhu, the Punjab minister whose several suggestions have not been enthusiastically received by Chief Minister Amarinder Singh, said he respects his boss but quickly clarified that this did not imply that he would stop speaking his mind.
"I respect 'CM sahib' because his is the final authority," Mr Sidhu told reporters on Thursday, days after the Amarinder Singh government overruled his concerns to regularise nearly 8,000 illegal colonies in the state.
"We all respect whatever decision is taken by the CM. But it does not mean that I've put a lid on my mouth," he said, according to news agency PTI.
"Did people vote for us to become deaf and dumb?" Mr Sidhu, who was once seen aspiring to be the deputy chief minister, asked. He had eventually settled for light-weight portfolios of local government, tourism and cultural affairs.
"I gave my dissent and said it is not a futuristic decision. The final decision is to be taken by the CM. I can only put forth my view," Mr Sidhu said about his opinion on the government's decision. He had also sought action against bureaucrats who colluded with colonisers to settle these colonies.
Mr Sidhu's remarks are seen to reinforce perceptions of underlying tension between the Congress' two big leaders in Punjab.
The minister, who is seen to have the complete support of Congress president Rahul Gandhi and sister Priyanka Gandhi, is often the target of darts by other party leaders, particularly the old-timers in the party.
Asked if he was being targeted within the party, Mr Sidhu said the more he was criticised, the more determined he would become.
The former cricketer, who started his political career with the BJP and negotiated with AAP before settling down with the Congress, had been keen to be part of the Captain's team as his deputy.
His falling out with the BJP began in 2014, when he was forced to surrender his Lok Sabha constituency of Amritsar for Arun Jaitley, who eventually lost the election. Mr Sidhu, a huge crowd puller, is known to have blamed the BJP's lead ally in Punjab, the Akali Dal, for the BJP's choice of Amritsar for Mr Jaitley to target him.
As minister, the cricketer-turned-politician also wanted Amarinder Singh to order a probe into corruption allegations against rival Akali Dal's first family; five time chief minister Parkash Singh Badal and his extended family in politics. But Amarinder Singh had turned down the suggestion.
Mr Sidhu reasoned that if politicians or officials looted the state, they should not go scot-free.
"Punishing the wrong doer is justice...I do not consider it vendetta. I consider it justice," he told reporters.
"I am answerable to the people. I also respect CM Sahib. He has his opinion and I have my own," Mr Sidhu added.
The minister had earlier made no secret of his disappointment with the Chief Minister for the Punjab government stand in the Supreme Court asking the judges to confirm his conviction in a road rage case of 1988. Amarinder Singh clarified that the state government could not have changed its stand but Mr Sidhu is not said to have been entirely convinced. He was eventually let off by the top court with a Rs 1,000 fine.
More recently, Mr Sidhu, as head of the panel on the sand mining policy, had pushed for replicating Telangana's policy that earns Rs 1,400 crore as compared to Punjab's paltry Rs 40 crore. Chief Minister Amarinder Singh has not accepted this recommendation yet.
With inputs from PTI