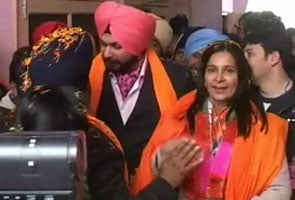 New Delhi:
Cricketer-turned-politician Navjot Singh Sidhu is known for his raucous laughter and quips as a cricket commentator.
As a politician, however, he is apparently less cheery. Mr Sidhu, who belongs to the BJP, and represents Amritsar in the Lok Sabha, is "feeling suffocated", his wife said today.
His wife, Navjot Kaur, said first on Facebook and then to reporters, "Since the past six months, I've been listening that my husband Sidhu is keeping away from the system, he's not working for the system. Being in the system, one must have the liberty to choose your people and if you can't do so, the system suffocates you," she said.
She stressed that this is "not a comment on any political party".
Sources say Mr Sidhu, a three-time MP, is reportedly upset with being sidelined by his party, which recently re-organised its top positions in preparation for the national elections, which are scheduled for next year.
Within the BJP, there have been allegations that the former cricketer has appeared disconnected from politics.