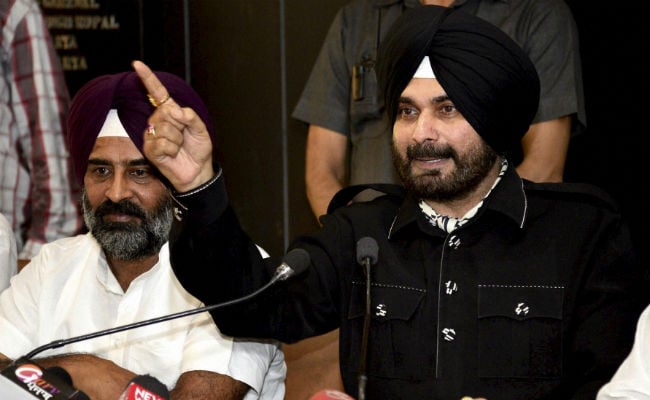 Highlights
Navjot Singh Sidhu had resigned as BJP's member of Rajya Sabha in July
He launched his party, the "Awaaz-e-Punjab", earlier this month
His wife Navjot Kaur said she too would resign from BJP
New Delhi:
The mystery of whether Navjot Singh Sidhu had quit the BJP, as he weighed over two months which would be his next political party, was solved today. He had not.
Not when he resigned from the Rajya Sabha in July, not when he was in negotiations with Arvind Kejriwal's Aam Aadmi Party and not when he launched his own party, the "Awaaz-e-Punjab", earlier this month.
The cricketer-turned-politician is in Delhi and has formally resigned from the BJP today, said his wife Navjot Kaur Sidhu in Chandigarh. A lawmaker in the Punjab assembly, Ms Sidhu said she too would resign from the BJP once Mr Sidhu's new party is set up.
Last week, Mr Sidhu, 52, announced the launch of his new party, explaining why a deal to join AAP did not come through. Delhi Chief Minister Arvind Kejriwal, he alleged, wanted "only yes men" in the party and had asked him not to contest the Punjab assembly elections, to be held early next year.
Mr Sidhu will be the chief ministerial candidate of his new party, and has invited "like-minded" people to join hands with him. He turned down not only AAP's offer to join them but also that of the Congress' Punjab chief Amarinder Singh.
Navjot Sidhu resigned as a nominated member of the Rajya Sabha in July this year, giving notice to the BJP, his party of 12 years.
He had been upset since the party decided not to field him from Amritsar, a seat he had held for 10 years, in the 2014 parliamentary elections.
The BJP fielded now Union Finance Minister Arun Jaitley, who lost to Amarinder Singh. Local BJP leaders had accused Mr Sidhu of sabotaging Mr Jaitley's election.