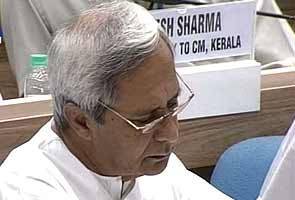 Bhubaneswar:
Odisha Chief Minister and Biju Janata Dal (BJD) chief Naveen Patnaik has gone on the offensive by accusing UPA's presidential candidate Pranab Mukherjee of doling out lakhs of crores of rupees from Central funds as Finance Minister to states like Bihar, UP and Bengal to elicit support for his candidature.
"During his tenure as the Finance Minister, Mr Mukherjee had doled out huge sums of money - lakhs of crores - for certain states like Bihar, Bengal and UP. Could it be that this money is going because he wants certain parties, you know, like Mulayam Singh's party, Nitish Kumar and Mamata Bannerjee to support his candidature as Rashtrapati of India? Well, this is not private money. This is the people's money. This is your money," Mr Patnaik told reporters on his return from a five-day visit to Delhi.
Mr Patnaik's remarks came hours after he and Opposition's presidential candidate PA Sangma were accused by Congress of violating the Constitution by trying to influence the voters using tribal and religion card. The BJD supremo had accompanied Mr Sangma during filing of his nomination in Delhi.
Describing Mr Sangma as a prominent tribal leader, the Odisha Chief Minister said the former Lok Sabha Speaker's prospects in the race for the top post were getting stronger.
Stating that presidential election was significant, he said probity, integrity and honesty should be given importance.
To a query, the BJD supremo said his party would have no alliance with BJP or Congress in future.