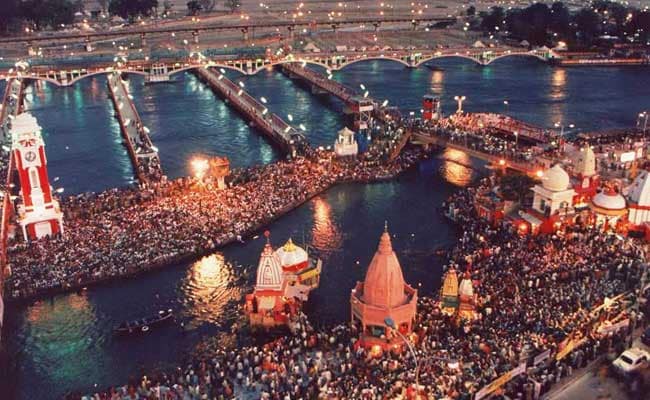 Nashik:
Sadhus and pilgrims in their thousands are pouring in the city as the Simhastha Kumbh Mela, one of the largest religious congregations on the Earth, is set to start tomorrow.
The mega event, where lakhs of pilgrims would take dip in the river Godavari, would start with a flag-hoisting ceremony organised by Nashik Ganga Godavari Panchkothi Purohit Sangh and Trimbakeshwar Purohit Sangh at 6.16 am at Ramkunda in Nashik city and at Kushvarta Teerth in neighbouring temple town of Trimbakeshwar, respectively.
Nashik-Trimbakeshwar host Kumbh Mela when the Sun and Jupiter come together in Leo ('Simha') zodiac sign in the month of Magha as per the Hindu calendar after every 12 years, said Satish Shukla, President of Nashik and Trimbakeshwar Purohit Sangh, and Jayant Shikhare, president of Trimbakeshwar Purohit Sangh.
Ahead of the Kumbh Mela, grand 'shobha yatras' (processions) were taken out in both Nashik and Trimbakeshwar this evening, in which mahants and sadhus of various 'akhadas' participated.
The flags of the event would be hoisted tomorrow morning in the presence of Maharashtra Chief Minister Devendra Fadanvis and Union Minister Shripad Naik in Nashik.
Union Home Minister Rajnath Singh is the chief guest for flag-hoisting in Trimbakeshwar.
The civic body has set up 'Sadhu-Gram' over 315 acres in Nashik where tents have been put up for sadhus. The temporary tent-town has been supplied with toilets, 24-hour drinking water, LPG cylinders and electricity.
The high-point of the gathering, 'Shahi Snan' (royal bath) has been scheduled for 'Parvani' days of August 29, September 13 and September 18 in Nashik. In Trimbakeshwar, the royal procession and bath would take place on August 29, September 13 and September 25.
While the Nashik sahdu-gram mainly houses the followers of Vaishnav sects and Nirmohi, Nirwani and Digambar akhadas, Trimbakeshwar is home for those from Shaiva sect, including Naga sadhus.
This segregation, it is believed, was ordered by the Peshwa rulers after a fierce clash between followers of two sects led to death of thousands of Sadhus during a Kumbh Mela in the late 18th century.
Nashik Collector Dipendrasinh Kushwah said the administration had fully geared up for the Kumbh Mela. The Maharashtra State Road Transport Corporation has provided 3,000 special buses for the occasion.
Police have done a micro-planning for security, especially for avoiding stampedes in the two cities and on the banks of Godavari which originates near Trimbakeshwar. A stampede had marred the Kumbh Mela here last time.
Around 15,000 policemen would be deployed on 'Parvani' days.
Top government officers, including City Police Commissioner S Jagannathan and Superintendent of Police Sanjay Mohite are keeping a close watch on the security arrangements.
New roads have been laid for movement of pilgrims going towards the river and those returning after the holy dip.
Additional 'ghats' have been built to avoid crowding at Ramkunda here.
The city police has also set up a control room equipped with CCTVs. As many as 1,700 loud speakers have been installed across the city and connected to public address system installed in control room.
The buses provided by MSRTC would also carry community radios which would announce instructions for the pilgrims.
Kumbh Mela is held at Haridwar, Allahabad (Prayag), Nashik and Ujjain. According to the Hindu mythology, the drops of nectar fell from the 'kumbha' (pitcher) carried by gods (produced after the sea was churned) at these four places, and bathing in the river in these places during this period is considered to 'cleanse' all the sins.