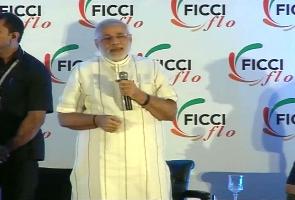 New Delhi:
In a speech that emphasised "women power",
Narendra Modi
found the space to swipe at some pet peeves: the Congress, vice-president
Rahul Gandhi
and the Gujarat Governor Kamla Beniwal, with who he collided over the appointment of the state's Lokayukta or ombudsman.
The Chief Minister said that he regrets that despite his state's Governor being a woman, she has not signed off on a law proposed by his government that reserves 50 per cent of all seats in local bodies for women. "We could not implement it because our Governor has withheld her signature," he said. "It is our misfortune that the bill is stuck although we have a woman Governor." (
Read: Highlights of Narendra Modi's speech at FICCI
)
Mr Modi was asked by a member of the Federation of Indian Chambers of Commerce and Industry's (FICCI) women wing to detail what he would do regarding women's reservation in governance "when you come to the Centre", a remark that led to vigorous clapping. (
Watch: Modi answers questions at FICCI meet
)
Mr Modi said the Gujarat Assembly had passed a legislation reserving 50 per cent of all seats for women in panchayats and civic bodies.
In 2011, the Governor cleared the appointment of retired judge RA Mehta as Lokayukta for Gujarat. The Modi government objected because it said it had not been consulted. The Governor said she had confabulated with the Chief Justice of the High Court, as required by law.
Mr Modi took his case to court and lost.
In retaliation, his party, which has a clear majority in the Gujarat Assembly, cleared a new law recently that eliminates the role of the Governor and Chief Justice in selecting the Lokayukta.