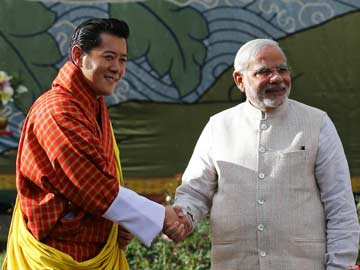 New Delhi:
Happy over Prime Minister Narendra Modi's successful visit, Bhutan Prime Minister Tshering Tobgay has thanked the "blessings of our guardian deities, leadership of our Kings, good fortune of our people" for it.
"PM@narendramodi visit a success: All thanks to the blessings of our Guardian Deities; leadership of our Kings; good fortune of our People," Mr Tobgay tweeted, which was re-tweeted by Mr Modi. (
No Question of Chinese Embassy in Bhutan: PM Tshering Tobgay to NDTV
)
Mr Modi, who chose Bhutan as his first foreign destination since taking over last month, received a rousing welcome in that country with the Monarchy and the government going out of the way to display their special gestures. (
Also Read: If You Take a Few Steps, We Will Walk With You: PM Modi to Bhutan
)
He was received at the Paro airport by and his Council of Ministers and was accorded a ceremonial guard of honour at the airport as well as the Royal Palace on the first day of the visit on Sunday.
Mr Tobgay and his Council of Ministers went to the airport, about 50 kms from Thimphu, to see him off as well, yesterday.
Both while coming and leaving, Mr Modi was given a special welcome en route from Paro to Thimphu, with common people, including children, lining up the road waving flags of India and Bhutan.
While leaving, Mr Modi stopped at two places to interact with common people and children.
"My inner voice said I should visit Bhutan first," the Prime Minister said yesterday while explaining why he had chosen Bhutan as his first foreign destination.
"After such a big mandate, there is usually a temptation to visit some big powerful nation so that there is praise all over. But my inner voice said that I should visit Bhutan first," he said while
addressing the joint session of Bhutanese Parliament
.
"There was no plan. It was a simple step. Had I not visited Bhutan first, my conscience would have questioned me why I did not do so," he added.
Later, on his return yesterday, he tweeted, "Back to Delhi. This Bhutan trip will remain etched in my memory. It was a very satisfying & productive visit".