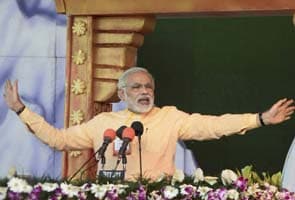 Kanpur:
Narendra Modi
begins his Uttar Pradesh campaign in Kanpur today and nothing is too much as the BJP preps for the event, crafted by the Gujarat Chief Minister's right hand man Amit Shah.
Mr Shah was at the Indira Nagar ground till late last night, giving instructions and supervising preparations for the first of nine rallies that the BJP's prime ministerial candidate will address in the state.
Uttar Pradesh - which sends 80 MPs to the Lok Sabha, almost a seventh of the 543-member House - has the potential to make or break Mr Modi's Delhi dream and the BJP is taking no chances. Currently it has 10 MPs from the state. In 1998, it had 57.
Early this year canny planner Amit Shah was handed the mammoth task of re-energising a moribund party in the crucial state. Both his event planning and organizational skills will be on display in Kanpur today.
Massive LED screens and workers armed with laptops and smart phones dot the venue. Facebook and Twitter pages are up and running. But Mr Shah is not depending on hi-tech alone.
(Track Live updates)
Vaastu experts have been consulted for finalising the design of the stage that's 100 feet long and 30 feet wide. Astrologers have keenly studied stellar alignments to decide on the exact time of Mr Modi's arrival, speech and departure. And a pair of silver snakes have been buried in the ground to ward off bad luck.
There is a special enclosure for young participants and party workers have been doing the rounds of the Indian Institute of Technology (IIT) and other local colleges in Kanpur to invite students to the event.
When he pitches his development agenda on stage, Mr Modi will be flanked by Mr Shah and veteran UP leader Kalyan Singh. In that configuration lies the message that the party is making a soft return to its Hindutva agenda - while the controversial Mr Shah has a hardline image, Kalyan Singh was the Uttar Pradesh chief minister when the Babri Masjid in Ayodhya was demolished by kar sevaks or Hindu volunteers in 1992.
But while the party attempts to consolidate the Hindu vote-bank again, it is also working hard to ensure that Muslims too attend Mr Modi's rally in substantial numbers. The BJP's choice for prime minister is derided by detractors as a divisive leader who failed to stop hundreds of Muslims from being killed during communal riots in 2002 in Gujarat during his first term as chief minister.