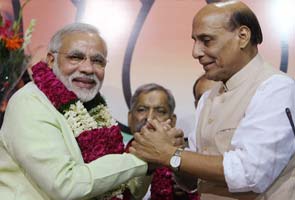 New Delhi:
Narendra Modi
, named the BJP's Prime Ministerial candidate for 2014, marked his new political innings promising to work hard to ensure BJP's win next year and seeking the blessings of millions of Indians.
"We will leave no stone unturned to ensure the BJP's victory," said Mr Modi, 63, flanked by BJP chief Rajnath Singh and other senior party leaders. (
Highlights
)
Corruption, inflation, governance and development were the main issues for the country next year, he said, not wasting much time in getting into poll mode.
His Kodak moment was marred by the absence of BJP veteran LK Advani, whom he mentioned in his speech thanking the party for choosing him. Another dissenter Sushma Swaraj, who fell in line after arduous persuasion by the party, was seated right next to him.
"The party has chosen an ordinary person like me, from a small town, for an extraordinary responsibility," Mr Modi said. "I will strive to live up to the expectations of party workers, and the Indians supporting the BJP."
Setting the tone for relentless political clashing with the ruling Congress ahead of the polls, Mr Modi also said he "hoped for strength to get the country through its hour of crisis."