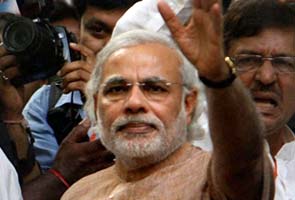 Lucknow:
Narendra Modi is not a political untouchable for Muslims, and can win their votes if he 'changes himself' and shows that he cares for them, a prominent cleric has said in Uttar Pradesh.
Maulana Kalbe Sadiq, one of the country's tallest Shia clerics today told NDTV, "What (Mr Modi) did was wrong, but if he is willing to change then we are also willing to change. My religion says that (if) any criminal expresses regret then we should overlook the mistakes."
In poll season, the comment marks a significant boost for the Gujarat chief minister who spent years as a political pariah over the 2002 communal violence in which hundreds of Muslims were killed in his state.
Asked if Mr Modi should apologise for the riots, the Muslim leader said, "It's childish to demand an apology. He should display in his character and through his actions that he cares for Muslims. If I see that Modi is making changes then I will back him. I can't say this for all Muslims, but I will personally back him."
As the BJP's presumptive prime minister campaigns for the state polls and the national elections due by May, the party has launched a drive to showcase Mr Modi's 'secular' persona by pulling in more Muslims for rallies and other events.
Maulana Sadiq is the vice president of the All India Muslim Personal Law Board and a noted scholar widely respected for his progressive views.
Many also see in his comments a warning for Samajwadi Party leader Mulayam Singh Yadav, who counts Muslims among the party's loyal voters but has lately faced criticism over his son and Uttar Pradesh Chief Minister Akhilesh Yadav's handling of last month's communal clashes in Muzaffarnagar.
A section of Muslims in Gujarat have in the past come out in support of Mr Modi and his development mantra, saying that the community must move on and support progress. But their voice is not seen as representative of the larger community.
The cleric's support for Mr Modi coincides with a huge controversy over Congress leader Rahul Gandhi's comment at rally on Thursday that Pakistani agencies approached young Muslims whose families had suffered in the Muzaffarnagar riots. (
read
)