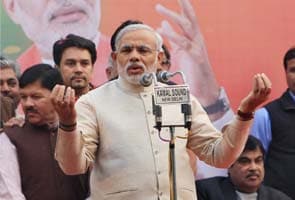 New Delhi:
Gujarat Chief Minister Narendra Modi is likely to head the Bharatiya Janata Party's (BJP) campaign committee for the 2014 Lok Sabha elections. This will make him the face of the BJP's election campaign as widely expected. This will also pitch him directly against the Congress' Rahul Gandhi who too heads his party's election coordination committee.
Sources have told NDTV that such a move has the blessings of the Rashtriya Swayamsevak Sangh or RSS, the ideological parent of the BJP, and that an announcement could be made in February, coinciding with one that Nitin Gadkari, despite all the controversy over corruption charges, will get his second term as BJP president after all.
Mr Modi is unlikely to resign as Gujarat Chief Minister to assume the key role in party affairs, sources said. The RSS is said to be factoring in a scenario where the BJP might be unable to get the numbers required to form government in 2014. To ensure that Gujarat - a state the BJP has ruled for the last 12 years now, mostly thanks to Mr Modi's efforts - is not left rudderless, the RSS is reportedly of the view that Mr Modi should only give up his post and head to Delhi once it's clear that the BJP has the numbers. Till then, he will wear both hats.
There has been a clamour within the BJP that the leadership issue be sorted soon as General Elections are due next year. After he recorded a third consecutive and spectacular electoral victory in Gujarat last month, Mr Modi has been seen as the BJP's best prospect. Party vice-president Kalraj Mishra said he had conveyed to the top echelons that a decision on the party's leadership must be made soon.
"Across the country Mr Modi has emerged as the most favoured leader among the people. Even within the party there is realization about this fact, but the right party forum will eventually decide," said Mr Mishra.
Mr Modi's supporters within the BJP, and many people outside the party, see him as a potential future Prime Minister. Many political watchers have already egged the 2014 elections as a Rahul Gandhi versus Narendra Modi personality clash. The Congress has sought to play this down by casting Mr Modi as a regional leader as compared to Mr Gandhi being the Congress' stated No. 2 after his mother and party president Sonia Gandhi. On the sidelines of a two-day Chintan Shivir at Jaipur, Union Rural Development Minister Jairam Ramesh said a Lok Sabha elections are always about party versus party. "2014 will not be contest between Modi and Rahul. It's always party versus party," he told NDTV. But Mr Modi himself is said to have little doubt about a bigger role at the national level, and soon.
There is, however, the not insignificant fact that Mr Modi is not acceptable universally among the BJP's allies in the National Democratic Alliance that it leads. Important partner Janata Dal (United) has made it very clear that the shadow of the 2002 Gujarat communal riots that tarnishes Mr Modi's political career makes him unacceptable as the face of the 2014 campaign for the alliance as a whole.
However some leaders close to Narendra Modi do not favour the proposed arrangement. They suggest that Modi should be declared as the prime ministerial candidate. Also some Gujarat BJP leaders claim Modi is yet to say yes to the proposal.
All decks have also been cleared, sources say, for Nitin Gadkari's second term as party president, an eventuality that looked bleak just a month ago as he grappled not just with serious corruption charges and scathing criticism from political rivals, but also with rebellion within the BJP, with senior leaders suggesting that he resign. The RSS is said to have argued that if Mr Gadkari has been able to continue as the party chief so far, there is no reason why he cannot do so for the next three years.
The RSS had handpicked Mr Gadkari to be BJP president in 2009, in an assertion of its might within the saffron family. Many top BJP leaders had demurred then and when corruption charges surfaced against Mr Gadkari, who is also a Nagpur businessman, they made a case for his resignation and for denying him an unprecedented second term.