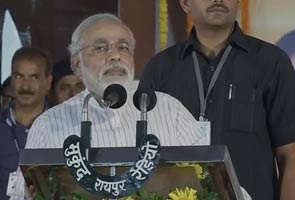 Ambikapur:
Gujarat Chief Minister Narendra Modi was in election-bound Chhattisgarh today and the stage that he shared with his host Chief Minister Raman Singh was a model of Delhi's Red Fort (
Read
). Here are the highlights of his speech:
I have come to Sarguja many times and even in Ambikapur but today's turnout has been truly overwhelming.
I have been associated with Chhattisgarh since beginning.

I am fortunate that I have been able to travel 6,000 kilometres to come and salute Chief Minister Raman Singh.
Look at the way the Congress government created Telangana. There is bloodshed everywhere.
Whenever I think of Chhattisgarh, it reminds of me of Vajpayeeji's decision.
When Chhattisgarh was formed, Madhya Pradesh was also distributing sweets. When Telangana was formed, curfew was imposed.
This is the Congress ka 'karya shehli'.
Raman Singh never depended on New Delhi for Chhattisgarh's development.
Chief Minister Raman Singh kept fighting with Delhi, he didn't sit back.
Congress can turn gold into sand
There is a Singh in Delhi (referring to Dr Manmohan Singh) and there is a Singh in Chhattisgarh too. Manmohan Singh is also a doctor and Raman Singh is also a doctor. The Singh in Delhi has destroyed the rupee.
Manmohan Singh is the doctor of the Rupee and Raman Singh is the doctor of the people out here.
Dr Manmohan Singh may be the rupee's doctor but that rupee today is fighting for its life.
The Congress government is full of pride. They do not reply to the people of this country.
The people of this country are dying with price rise
The Planning Commission comes up with figures that a family can live a day at a certain amount.
The government in Delhi is not even aware how much the poor needs to spend a day
They are not even aware as to how the poor of this country are living on what grounds.
The Delhi government is inhuman.
You can't even get two cups of tea in Rs 32, forget a meal.
Some people are shielded from even heat and dust, unaware of the living condition of the poor
They think poverty is a state of mind
They haven't apologized for their insensitive remarks.
Even the Supreme Court of India has negative things to say about the Congress government.
Raman Singh's initiative of giving food to the poor was praised by the Supreme Court.
The Supreme Court had backed the Chhattisgarh programme and asked the government to learn from the Chhattisgarh model.
Power is not a tool for political game. The BJP governments serve people selflessly.
I am sure the people of Chhattisgarh will back Raman Singh and elect him for another term.
We want to give opportunity to India's youth.