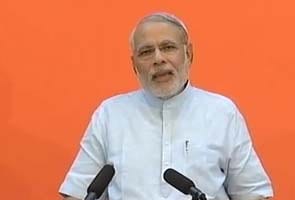 Ahmedabad:
Gujarat Chief Minister Narendra Modi today addressed the Indian diaspora in 18 US cities through video conferencing. The event was organised by the Gujarati community in the US as a part of the Gujarat Day Celebration. Here are the highlights of what Mr Modi said:
I am seeing that you all are rising in applause. This affection can give renewed strength.
This love is not about one person. This is love for 6 crore Gujaratis. It is their effort that Gujarat has made a name all over.
In India we are worried about Ganga. Ganga was pure till we considered it Mother. World taught us to see it merely as water.
I am happy that you are celebrating this Gujarat event globally. I am seeing Chicago Mayor is participating.
Gujaratis are a global community. Wherever the Gujarati has gone, he or she has made that his.
In true sense you are our cultural ambassadors. This gives strength to us.
I also heard 3 Gujaratis are getting Ellis Award. There is Bharat Bhai, Mahendra Bhai, Ramesh Bhai, I congratulate them.

Through political forces, people were made to forget that Gujarat was found on May 1.
I bow to everyone who worked and gave their lives for Gujarat. I assure we will never forget your dreams.
We have brought a huge change by providing 24 hours of electricity in Gujarat.

The world is looking at us very minutely. Whatever the incident is, any event associated with India, world feels why is it happening.
Development needs to be inclusive, not exhaustive.
Development is development only when it take place everywhere.
We need development in Kutch, Banaskantha, Radhanpur, on our coastline. it has to be 'sarvasparshi'.
We changed nature of development.
John Kennedy said it is not money that builds road. It is these roads that create value.
I have never said there was nothing in Gujarat before Narendra Modi came. There was.

And the development you see now, is not because of me, it is because of the six crore Gujaratis.
Was there no kite before I came, there was. Now, the kite industry has become huge. So many people are earning their livelihood through the kite industry. This is called development.
There was everything in Gujarat even before I came, but there was no tourism. Now, Amitabh Bachchan endorses it. People come from everywhere.
Now people think along with Taj Mahal, if we haven't seen the Rann of Kutch, we haven't seen anything. People didn't know the lions of Gir.
In 2001, when the problem of malnutrition was brought in front of us, everybody pointed a finger at us. Nobody looked at the figures of the country, they only looked at the figures of Gujarat. Now, according to the latest CAG report, Gujarat is the most successful state in tackling malnutrition at 33 per cent.
We will take technology to every house in the rural area.
This is Gujarat Day. But I am an Indian first, and I am worried because we are heading towards troubled times. All because of a weak govt.
India's External Affairs Minister reads the wrong paper at an international conference. How embarrassing is it for the country.
Chinese forces enter India and then withdraw. But why did our troops retreat on our own land.

Trust is the most important thing. And because of some people at the top, the trust of 120 crore people has been broken.
This trust is a very big thing. This development in Gujarat is because each has truth in the other.
We want to make the world's biggest statue in Gujarat. We plan to make a statue of Sardar Patel. We will call it the statue of unity. It will be double the size of the statue of liberty. We are working on that. We want your contribution for that.
I know there are many American leaders sitting there but I chose to spoke in Hindi. I hope you will convey my message to them.

Thank you all very much. Let's move forward together.