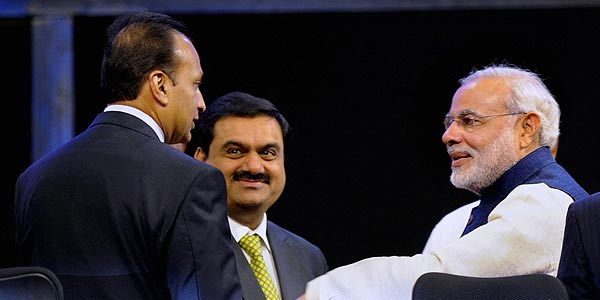 Gandhinagar:
Narendra Modi received lavish praise today from India Inc at the biennial Vibrant Gujarat summit that began today, where the chief minister of Gujarat employs his marketing savvy to drive investment in his state.
Mr Modi, in his address to the gathering, promised the creation of three million additional jobs through the various development initiatives undertaken by his government. On Twitter the Gujarat Chief Minister tweeted, "Earlier, Gujarat was the gateway to the Globe from India. Now it is becoming the Global gateway to India.
Earlier, speaking at the summit, Mukesh Ambani, the chairman of Reliance Industries, said "In Narendra Bhai, we have a leader with a grand vision." He announced a Rs 500-crore university that will be set up in collaboration with the Gujarat government.
(Special Feature: At Vibrant Gujarat Summit, India Inc praises Modi)
His younger brother, Anil - a headlining rapprochement was reached recently - acknowledged "respected elder brother Mukesh Bhai" in his opening remarks before going on to call Mr Modi "a king among kings." There was more. "Narendra Bhai has the Arjuna-like clarity of vision and purpose." He said the chief minister's skills have "acted as a huge magnet for investors and entrepreneurs from India and across the world in the past decade."
Mr Modi was re-elected for a third time as chief minister of Gujarat last month.
Initiated by Mr Modi in 2003 to attract investment after the violence and an earthquake in 2001, the event is attended by thousands of corporate officials who pledge billions in investment, although in reality only a fraction has seen the light of day. Of 12,40,000 crore rupees in investment proposed at the 2009 event, just 8.5 per cent had been spent as of November 2011, according to state government data.
Industry in Gujarat is helped by a long coastline and plenty of barren land that is easy to turn over to factory use.
Mr Modi has also been able to leverage the well-acknowledged business acumen of Gujaratis, a prosperous global diaspora and the support of billionaires such as Adani Group chief Gautam Adani and Mukesh Ambani who controls Reliance Industries, India's most valuable company.
"Under Modi's regime, there has been significant improvement in infrastructure growth, significant improvement in industrialisation, as well as agriculture," said Jahangir Aziz, senior Asia economist at JP Morgan. "But what has been overplayed is initial conditions were actually pretty decent in Gujarat."
Critics say that while Mr Modi has indeed encouraged investment and helped bring reliable electricity and law and order, double-digit growth has not been shared broadly enough. In the five years through March 2010, some states - including Tamil Nadu and Karnataka - did better at bringing down poverty levels.
Led by Mr Modi, his party the BJP won 115 of the state assembly's 182 seats last month. The scale of his victory has fuelled speculation that he could lead the BJP in 2014 against the Congress party, though he repeatedly asseverates his commitment to working in Gujarat. His prime ministerial ambitions are also threatened by allegations that he did not do enough to stop the communal riots of Gujarat in 2002, in which more than 1,000 Muslims were killed.
Mr Modi lured Tata Motors to the state in 2008 after the company's plans to build a factory for its low-cost Nano car were thwarted by farmers in West Bengal.
Ford Motor and Maruti Suzuki are also building plants in Gujarat - high profile investments that carry the added benefit of acting as marketing tools.
In the seven years through March 2011, Gujarat's economy grew an annual 10.08 per cent at constant prices, against 6.45 per cent in the eight years through March 2002 (Mr Modi took office in October 2001), which was still ahead of the all-India average of 6.16 per cent. A handful of states, including Maharashtra and Tamil Nadu, clocked bigger gains over the same recent period.
By comparison, policy gridlock at the national level has contributed to a drop-off in corporate investment, putting India on track to record its slowest annual growth rate in a decade.