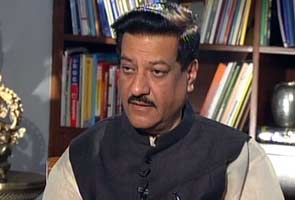 New Delhi:
Amid speculation of a change in leadership in Maharashtra, the state's Industries Minister Narayan Rane met Sonia Gandhi this afternoon. This has prompted speculation that he may take over as chief minister from Prithviraj Chavan. Among other contenders for the chief minister's position are the state's Agriculture Minister Radhakrishna Vikhe Patil and Revenue Minister Balasaheb Thorat.
Mr Chavan could be brought back to Delhi as part of an impending cabinet reshuffle. The Congress is also keen to settle the tension with ally NCP. The NCP made its dissatisfaction with the alliance clear - its members in Maharashtra said that Mr Chavan was uncommunicative and unresponsive to their requests, and slow to implement key infrastructure projects.
However, Mr Chavan dismissed reports of change in leadership in the state. He added that he doesn't know about any such change, and will follow the party's orders.
"The high command keeps on meeting leaders from all states and takes its own decisions at an appropriate time...There is no need for consultations while taking decisions (on leadership change)," Mr Chavan told reporters.
The NCP is a member of the ruling coalition at the centre as well, which is led by the Congress, and Mr Chavan's exit could help smoothen what has recently been a tense relationship, say sources.
Mr Chavan was minister of state in the Prime Minister's Office (PMO) till he was deputed in November 2010 to implement a course-correction for the Congress. News of the Adarsh Scam had just broken, and then Chief Minister Ashok Chavan was linked to the swindle that saw apartments being grabbed by politicians, bureaucrats and retired defence officers in a building meant for war widows and veterans.
Mr Rane, who represents Kudal in the southern Maharashtra district of Sindhudurg, has served as Chief Minister for an eight-month stint in 1999. He was originally with the Shiv Sena, and then switched to the Congress in 2005. While Congressmen hold his political origins in the Shiv Sena against him, the other contenders have very little visibility and support base outside their own constituencies.
(With inputs from PTI)