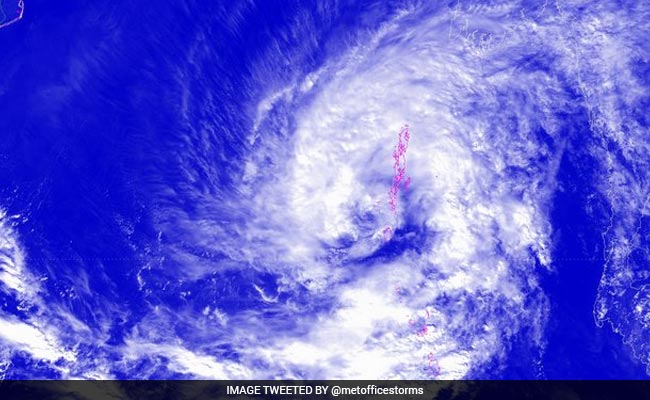 New Delhi:
The name of severe cyclonic storm "
Vardah
", which has made landfall, hitting the coast 60 km from Chennai, has been given by Pakistan. "Vardah" means "red rose".
The name of cyclones in the Indian Ocean Region are decided by member countries -- India, Sri Lanka, Bangladesh, Thailand, Myanmar, Maldives and Oman. The last cyclone that hit Chennai earlier this month was called "Nada" - meaning "nothing" in Spanish and Portuguese and "Hope" in Russian -- a name suggested by Oman.
Cyclone Vardah
, which has already caused the death of two people and resulted in the evacuation of nearly 16,000 people from Tamil Nadu and Andhra Pradesh, will take around four hours to cross land completely.
The cyclone, which has hit with a windspeed of around 130 kmph, has
uprooted hundreds of trees and nearly 100 huts
in and around Chennai. Many of the branches had fallen on cars parked underneath, crushing them.
The strong wind has toppled an oil tanker on the Chennai-Vijayawada highway.
Flight operations had to be suspended till 9 pm, and 87 flights had been diverted or delayed.
The Navy has two ships ready with doctors, food and water for around 5,000 people. Besides, 30 diving teams with additional relief material are also on standby. The Army has seven columns ready for rescue operations if needed. The National Disaster Relief Force or NDRF has deployed 15 teams along the coastline.
Both Tamil Nadu and Andhra Pradesh have been on high alert since yesterday.
All schools and colleges were closed today in Chennai, Kancheepuram and Tiruvallur, and the coastal areas of Villupuram. Many private offices had asked their staff to work from home.
(With inputs from PTI)