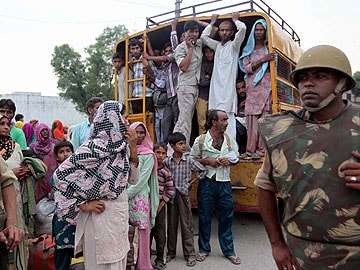 New Delhi:
The Supreme Court today said the Akhilesh Yadav government in Uttar Pradesh had failed to protect the fundamental rights of people in
Muzaffarnagar
, where nearly 60 people were killed in riots last year.
The court also blamed the state government for negligence, but said there was no need for any probe by a Special Investigation Team or the CBI. The court said, "We prima facie hold the State government responsible for being negligent at the initial stage in not anticipating the communal violence and for taking necessary steps for its prevention."
(Muzaffarnagar riots: 248 people chargesheeted by SIT)
Responding to a batch of petitions, the court said that all accused named in riot cases must be arrested irrespective of their political affiliation.
16 politicians were charged with inciting violence, including the area's BSP parliamentarian Kadir Rana, two BJP legislators and a BSP legislator.
(Muzaffarnagar riots: six months on, 'missing' accused still roam free)
The court also asked the government to provide police protection to women who have allegedly been raped during the riots and to all riot victims till the end of the court trials.
"The court is conscious that more effective steps need to be taken by the state, including long-term measures to change the social mindset, like education sensitization of police and gender equality," the top court said.
The riots flared up in Muzaffarnagar in September, in the aftermath of the killing of two Jats and a Muslim. Incendiary speeches by politicians and religious leaders triggered a wave of communal violence in several villages that continued for days.
The petitions alleged that the state government had failed to check the riots and was trying to protect rioters. They also alleged that the state had failed to conduct a fair probe.
The Supreme Court's ruling comes in the middle of a charged campaign for next month's national election.
The Samajwadi Party is seen to have lost many of its loyal Muslim voters who believe the government failed to protect them in Muzaffarnagar. The BJP hopes that a polarization will work in its favour; the constituency had seen a Jat-Muslim consolidation in the previous election in 2009.
Follow NDTV for latest election news and live coverage of assembly elections 2019 in Maharashtra and Haryana.
Subscribe to our YouTube channel, like us on Facebook or follow us on Twitter and Instagram for latest news and live news updates.