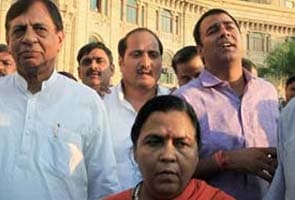 Lucknow:
Soon after she delivered a warning of "more tension" in Uttar Pradesh if politicians from her party are arrested for instigating the Muzaffarnagar riots earlier this month, BJP leader Uma Bharti dashed off a letter to UP chief minister Akhilesh Yadav last night.
"It's not fair to slap Section 302 (murder charges) on the workers, no one heard their side of the story. This can lead to a tense situation in Uttar Pradesh....Though your statements were loaded with threats, we still want to maintain peace within the state," she wrote.
Ms Bharti alleged that "BJP MLAs and workers and people from a particular community are being targeted by your government."
(Read her letter).
On Wednesday evening, she stood outside the state assembly in Lucknow while flanking her party's Sangeet Som, one of the politicians against whom a warrant has been issued by a local court, and said, "Our MLAs (state legislators) will not oppose their arrest, but the government is responsible for what will follow. I am warning them."
Party workers encircled Mr Som, forcing the police that had arrived to arrest him to turn away.
Mr Som has admitted that his office circulated a fake video that claimed to show the lynching of two Hindu Jat boys; he said that the video had been uploaded by the ruling Samajwadi Party originally.
The police says the footage is two years old and from Pakistan, and inflamed the tension that resulted in the worst communal riots in the state in over a decade.
The group of politicians accused of delivering incendiary speeches at different meetings in Muzaffarnagar include Sangeet Som and Bhartendu Singh of the BJP; Kadir Rana, Noor Saleem and Maulana Jameel of the BSP; and Congress leader Saeeduzaman.
The riots have triggered speculation that parties are seeking to polarise the politically pivotal state along religious lines ahead of general elections due next year.
The Samajwadi Party has accused the BJP of inciting violence; the BJP denies that and says the government has enforced policies that protect and serve only minority voters.
(BJP used social media, SMS to fuel Muzaffarnagar riots: Akhilesh Yadav)
Nearly 50 people died and 40,000 were forced to flee to refugee camps in the violence that tore through western UP earlier this month.
Get Breaking news, live coverage, and Latest News from India and around the world on NDTV.com. Catch all the Live TV action on NDTV 24x7 and NDTV India. Like us on Facebook or follow us on Twitter and Instagram for latest news and live news updates.