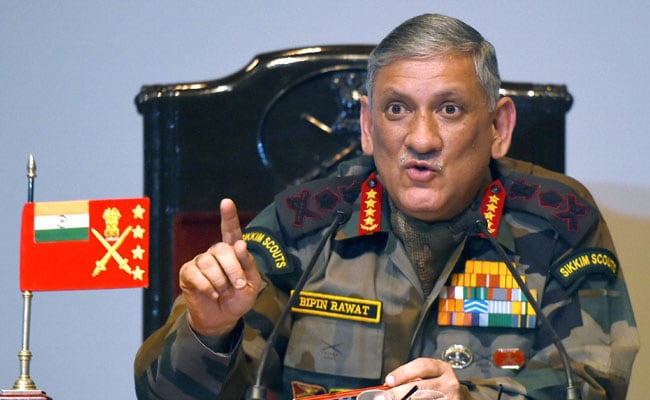 New Delhi:
On the first day of 2018, army chief General Bipin Rawat conveyed New Year greetings to Indian Army personnel and their families, and reminded the force to preserve its core values such as keeping an "apolitical stance".
"We have successfully progressed through an eventful year; meeting all challenges, both external as well as internal, with grit, determination, and pride," General Rawat said in a statement.
China and India in late August agreed to
end a lengthy standoff
at the Sikkim border that began in June. The tension began when Indian troops entered the Doklam plateau to stop China from building a new road which New Delhi viewed as a serious security concern because of the access it provides to Beijing.
"Our unflinching loyalty, commitment to the nation and apolitical stance, confers on us a uniqueness that we must preserve," the army chief said.
Since the beginning of 2017, the Indian Army has pursued an aggressive anti-terror policy in Jammu and Kashmir, and also responded with force to all ceasefire violations by Pakistani troops along the Line of Control.
General Rawat said the army has successfully dealt with big challenges in 2017, including combating terrorism and guarding the country's borders. "Our soldiers in the UN Missions have made Army and the Nation proud, by displaying outstanding professionalism in face of challenging situations," he said in the statement.
The army chief said his salute goes out to soldiers and "civilian colleagues from the army" who have "made the supreme sacrifice in the line of duty, in the past year".
"May the New Year bring success, glory, prosperity and above all happiness to you and your families," General Rawat said in the statement.